You can register students to your polls by importing a list of participants (e.g., from an Excel spreadsheet) or by distributing a link to all participants and have them input their own information. To import students from your LMS please see the LMS Integration documentation.
We recommend organizing participants into specific groups by course, such as Econ 101, using bulk import, the invitation link, or you can assign students to groups manually after you have registered them. These groups are only visible within each account, are helpful for organizing courses, and are essential to running an attendance poll. Canvas, Blackboard, and Moodle roster import groups by course automatically.
You can import a list of participants and automatically register them to participate in your polls. This essentially creates participant accounts for your students if you have all the required information. Your participants can then simply log in with the email address and password you've assigned them. If a participant wants to respond via text, and you have not included a mobile phone number on their registration, they must log in and enter the phone number that they will be using to respond. They must also certify their phone number in order for text responses to be associated with their participant account.
Step 1. Go to the Participants tab accessible from your My Polls page. This page will show any participants who have already registered to your institution's license, not just the students in your courses.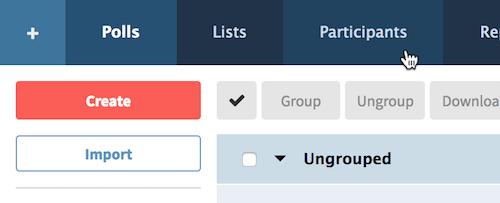 Step 2. Click the Add Participants button toward the left of the screen , and select the Import option.

Step 3. Download the CSV template provided or create your own with the same column order indicated. Email, first name, and last name are required information. You can also include a password, a US phone number, and a responding as identifier (e.g., a screen name, student ID.) Leave blank columns for fields you choose to omit.
Step 4. Save the spreadsheet as a CSV file.
Step 5. Return to Poll Everywhere and import the CSV file. At this point, you can also define a default password and create a participant group.

Step 6. Click the Continue button.

We will validate the file and show you progress. Validation includes checking the list of participants for duplicates.
Once we've validated all the students in your CSV file, we'll show you any errors we can fix, errors we can't fix without your help, and all the lines which are crystal clean. At this point you can correct any errors in your CSV file and start this process again from the beginning or click Continue to import the validated records.
Once the import is complete, you'll be able to see the students that were imported successfully and those that were not.
You can distribute a personal invitation link to participants (e.g., via email.) When they follow this link, participants will certify their email address and phone number (if they will be participating via SMS texting) and create a password. They may also provide their name. If they already have an account with us, they'll simply be placed into the correct participant group.
Step 1. Go to the Participants tab, accessible from your My Polls page. This page will show any participants who have already registered to your institution's license, not just the students in your courses.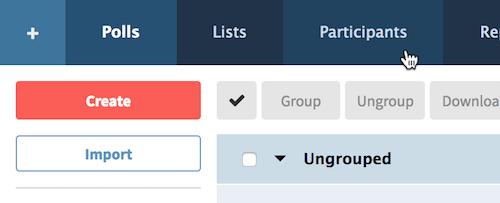 Step 2. In the Groups section along the right, click New Group to create a group for each course. After clicking Done, click Invite next to the course you're registering, and copy the link that appears in the box.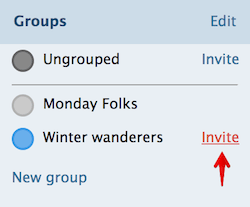 Step 3. Distribute the link to participants (e.g., by pasting it into an email.)
Here is an example message you can include along with the link you send:
I will be using Poll Everywhere to collect your feedback. Please follow the link I provided in order to register to my account.
By registering with my account, I will be able to view your email and see your responses to my polls (unless the poll is clearly marked as anonymous).
You will be asked to provide your email address, certify your mobile phone number (if you would like to participate in my polls via SMS texting), and create a password. You may also choose to share your name with me after you register. (Your information is protected, and Poll Everywhere will never share emails or phone numbers with any third party.) If you have any questions, please visit the Poll Everywhere User Guide (http://www.polleverywhere.com/user-guide).
Thank you! I look forward to your participation in my polls.
Once the student has created the initial account, or registered for their initial professor, its as easy as clicking one button which won't interrupt the class flow for more than 3 seconds. Here's how:
Create a poll and under Configure you'll want to:
restrict the poll to registered participants only or
restrict responses to just web, not both web and text.
Students trying to respond to that poll will be prompted to click a single register button. If they are not logged in or do not yet have an account, they'll be able to login or create an account quickly. Once logged in, they may have to join the session again by typing in your username at which point they'll see the same registration button. After a few seconds, the students will see a confirmation checkmark, and then will be able to continue with the polling session as normal. This whole process can take a few seconds to a minute depending on if the students have an account and are already logged in.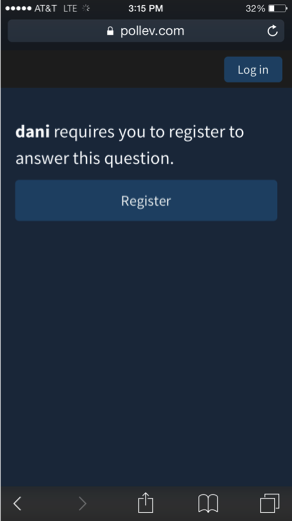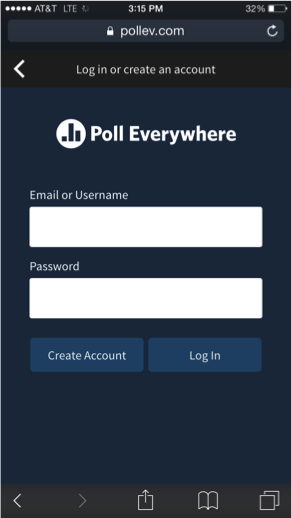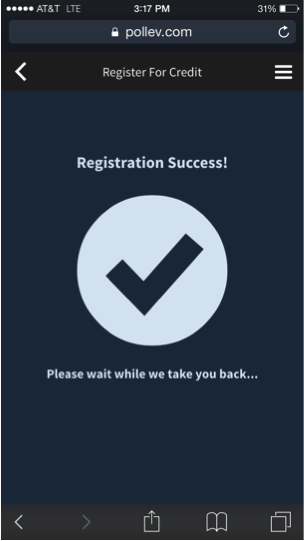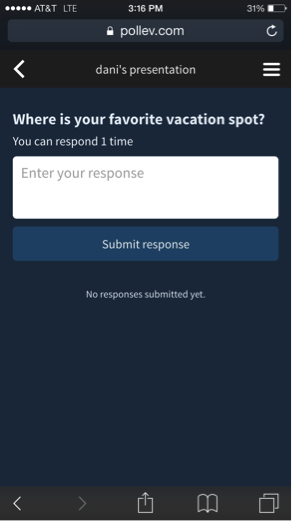 The student guide is sent out to students to show them how to sign up and/or register for your course. If your students are having trouble registering, please reference this guides.