A survey is a group of activities that participants respond to at their own pace. Surveys can be activated and displayed on your pollev.com response page, embedded into a PowerPoint/Keynote/Google Slides presentation, or can be shared with a dedicated link for participants to complete on their own time.
This article addresses presenting and sharing surveys.
The Activate button at the top left will enable participants to answer your survey during a live presentation. Using this allows participants to only respond to the survey during the time you decide to leave it active.

The Copy response link button at the top left will allow participants to respond at their own desired time.
This enables you to collect responses without activating your Survey. Because this method doesn't involve activation, you have the ability to send out multiple surveys at once.

As participants begin to respond, their responses will begin to appear in the questions on the left. This allows you to see the progress of the questions individually.
As audience members complete questions, the live chart shows their progress through the survey. The bar graph shows individual participants progress. At the bottom of the chart a summary tells you how many surveys have been completed and how many are still in progress.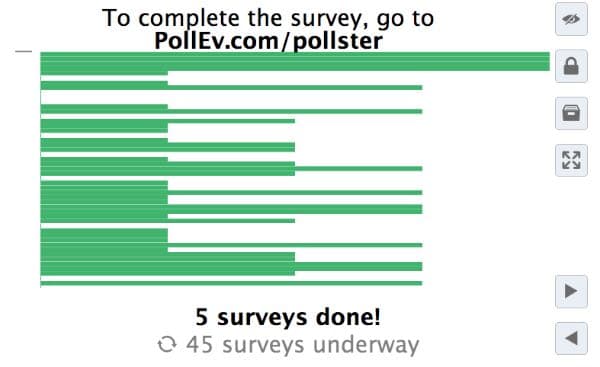 Note: If you've setup your survey to display on a single page, then the live chart presentation view will show when surveys are completed, but will not show audience members' progress through the survey.
Unlike the visualization charts for individual questions, there are not currently any customizations available for the Survey tracker chart. It is always green on white.
Was this article helpful?
Resources
Find out more about using Poll Everywhere to delight your audience, class, or colleagues.