Several different report formats are available with certain paid plans. Each report can be viewed online, printed as a PDF, or downloaded as a CSV file for analysis and archival.
Helpful tip: To save the report as a PDF file, click the Print button in the bottom right corner of your screen. In your browser's print screen change the printer destination and select Save as PDF, then select Save.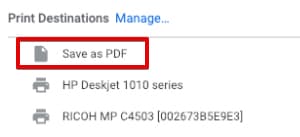 The Executive summary is the big picture overview. It displays summarized results in a separate table for each activity included in the report, which displays an overview of total responses, participants, and engagement. It's helpful for assessing response trends and ROI. A screenshot of each activity is included in this report.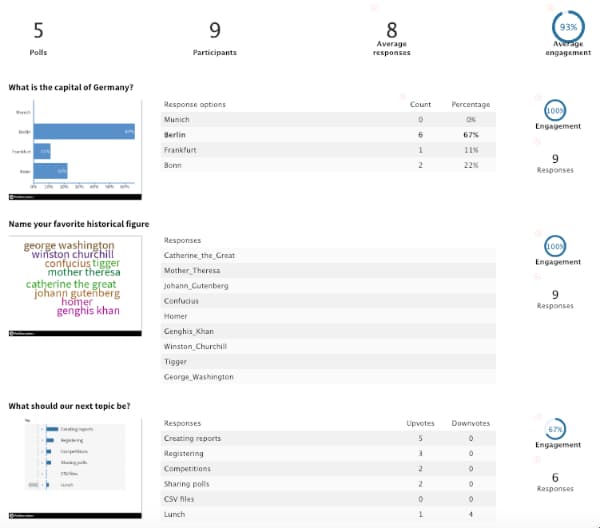 The Participant response history displays responses by participant. It shows you how participants responded to each activity, what means they used (web, text, etc.), and the date and time of their response. It can be useful for correlating participant responses.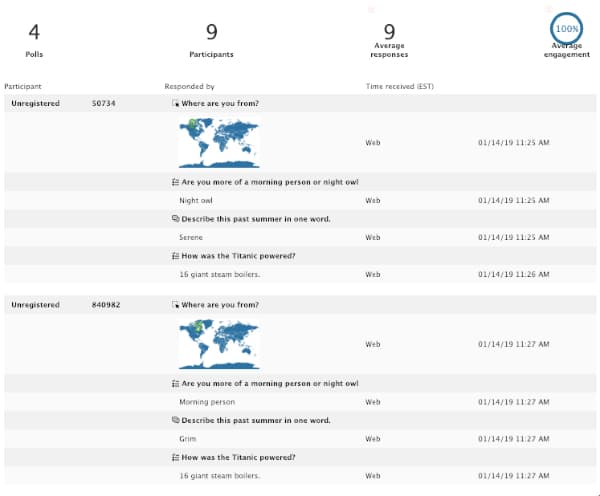 The Responses by participant report displays participant responses taken in sequence: One section per participant, one line per question. If a group of questions was used as a survey, use this report to view each participant's responses in order.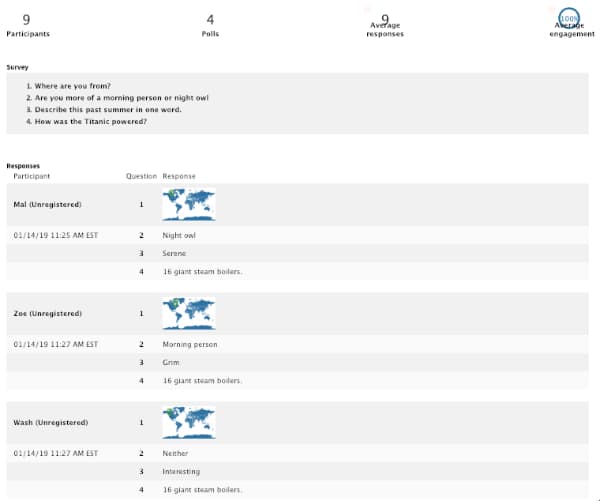 The Response pivot table report displays dynamic tabular data with one row per response. This report provides the most detail of all the reports, useful for grouping, crosstabs, or computing sums and averages.
The Gradebook report is a compact table which displays a list of participants and how well they scored during your quiz/presentation. It's a handy snapshot showing scores, participation, and can even be used to track attendance. This report may also be exported directly to your LMS allowing you to quickly sync your gradebooks.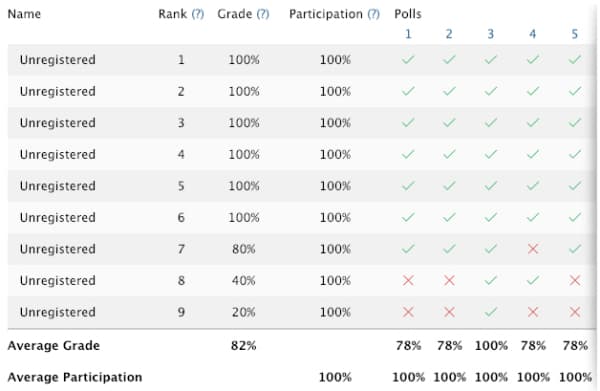 Was this article helpful?
Resources
Find out more about using Poll Everywhere to delight your audience, class, or colleagues.