Login window is not loading
If the login screen is not loading, this could be a sign that the network has proxy settings enabled or a firewall is blocking Poll Everywhere websites.
Poll Everywhere needs to be configured with any current proxy settings to load webpages (such as login or polls).
In Poll Everywhere's PowerPoint menu, click Settings, and then select Network from the drop-down menu.

Click the hyperlink "Find your proxy settings in LAN Settings".
Here, you can identify whether or not you have a proxy. "Automatically detect settings" is the Windows default.
If you find an address or port number, copy the information listed into the Poll Everywhere Network Settings dialog from Step 1. Note that this will not work for all types of configuration scripts.
If you have found a proxy, but you are still unable to see the PollEv login window, please reach out to your IT department for assistance.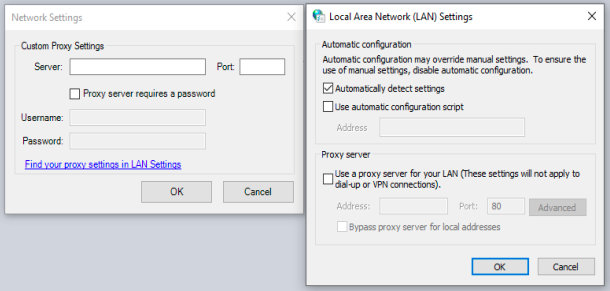 Does your company use a firewall? Have you ever been blocked from accessing other sites? If so, please verify or ask IT to ensure the following domains are whitelisted:
*.polleverywhere.com
polleverywhere.com
*.pollev.com
pollev.com
*.cloudfront.net
s3.amazonaws.com
amazonaws.com
aws.amazon.com
viz.polleverywhere.com

Additionally, TCP ports 80 and 443 must be open.
If you continue to have trouble please gather your logs and contact support.
Was this article helpful?
Resources
Find out more about using Poll Everywhere to delight your audience, class, or colleagues.