Poll Everywhere applications
Embed and present directly within slideware, team communication, and more.
---
Poll Everywhere for PowerPoint (Windows)
Poll Everywhere for Apple Keynote
Poll Everywhere for Google Slides
Poll Everywhere for PowerPoint (Mac)
Poll Everywhere for Microsoft Teams
Poll Everywhere for Webex
Poll Everywhere for mobile
Whether you're meeting online…
Don't let the silence of a video call prevent impactful, two-way conversations with your audience. Incorporate interactive questions directly into your favorite slide decks to spark dialogue and gain lasting insights.
Let audience members turn their devices into participation and learning tools. Read the room—from anywhere—with gut checks, brainstorming sessions, and Q&A activities thoughtfully inserted throughout your material.
Capture real-time audience feedback
Create, edit, and insert a variety of activity types while perfecting your slide deck.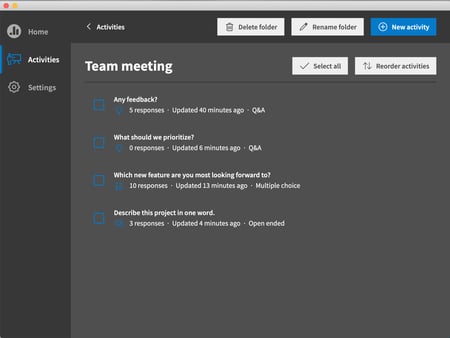 With the Poll Everywhere slideware apps for PowerPoint, Keynote, and Google Slides, audience engagement is a few clicks away.
Poll Everywhere for PowerPoint (Windows)
Poll Everywhere for Apple Keynote
Poll Everywhere for Google Slides
Poll Everywhere for PowerPoint (Mac)
Poll Everywhere for Microsoft Teams
Poll Everywhere for Webex
Poll Everywhere for mobile