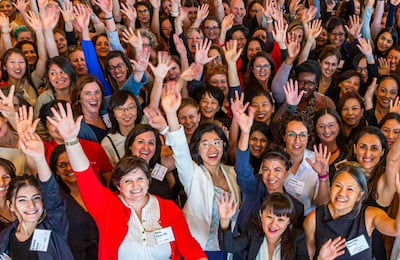 Location

California

Size

1000+

Use case

Events
"Poll Everywhere will engage event attendees in a group activity, which can then be used as a takeaway from the conference."
Marine Maroukian, Assoc. AIA, Co-Chair of the AIA Los Angeles Women in Architecture Committee, is highlighting participant voices in an upcoming virtual conference empowering women as they advance in their careers.
Setting the stage
The Women in Architecture Committee has been a vibrant part of the American Institute of Architects (AIA) Los Angeles since 2016. "We host a variety of mentoring and networking events throughout the year, and we also support community causes like Girls in STEM and Habitat for Humanity".
Once a year, the committee hosts an all-day conference called Powerful, which features leading voices in architecture as well as politicians, celebrities, and leaders in a variety of industries. "The speakers discuss issues and experiences and present ways to empower women throughout their careers. We host about four hundred attendees every year for a very energetic, inspiring event."
Now that the conference is moving online, the committee is opening the floor to attendees from around the country across two sessions. "We're thinking of ways to bring the powerful energy from our in-person conferences online. We'll have keynote speakers, panelists, and breakout sessions with forty different leaders hosting discussions about topics like networking, mentorship, and career development.
This year's lineup includes two politicians — Nury Martinez, Los Angeles Council President and Councilwoman in District Six, and Nithya Raman, running for Councilwoman in District Four. Then, attendees will hear a discussion between two stellar leaders in the profession, Billie Tsien, AIA, and Annie Chu, FAIA. The duo met early in Chu's career. Today, the firm that Tsien co-leads, Tod Williams Billie Tsien Architects | Partner, is designing the The Obama Presidential Center among other projects. Chu's firm, Chu + Gooding, is recognized for design excellence in a variety of work including arts and cultural centers.
Architects will discuss how their identities inform their work and the industry at large on a LGBTQ panel. The conference always recognizes young, emerging voices. This year, Dawn Hicks, Assoc. AIA, will speak from that perspective.
Amplifying audience voices
To conclude the talks on Day One, the hosts of Powerful will present a live Poll Everywhere activity as a way to capture audience sentiment in one word. "We'll be using a Poll Everywhere word cloud with the question 'What's the source of your power?' That will inspire and energize attendees before they disperse into breakout sessions at the end of the event," says WiA Co-Chair Chiara Bonsignori, AIA.The responses from the word cloud not only engage attendees in the moment, but act as an impactful summary of the day's activities. "We've always wanted to present a takeaway from the conversations. During our breakout sessions, attendees have in-depth discussions about specific topics, but we typically haven't been able to produce a visual snapshot of the outcomes."
That's why Lauren Coles AIA, who is an inventive contributor to the Powerful organizing committee, thought of Poll Everywhere. "She had used the tool before at conferences she's attended and during socials with co-workers, so she recommended we incorporate it into our virtual event."
"I'm excited to see the audience's responses. I think Poll Everywhere will be a great addition"
Poll Everywhere for virtual events
Energize your next event with live audience participation.