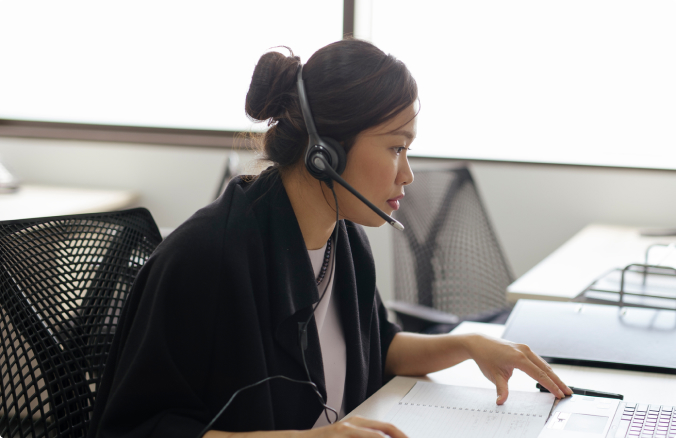 Location

Nationwide

Size

100+

Use case

Corporate learning & development
Alyssa Tincknell, Training Specialist on the Training and Development team at KellyConnect®, first came across Poll Everywhere during a college presentation she attended several years ago. Since starting at KellyConnect, she's been creating engaging content for a variety of meetings. When she joined, the team was already using Poll Everywhere. Alyssa took on the responsibility of creating and designing town hall presentations, which included making activities in Poll Everywhere to keep everyone engaged.
Designing interactive town halls
"Poll Everywhere is a powerful tool because it not only makes meetings more fun, but it gathers feedback for the next one," said Tincknell. "I use Poll Everywhere to connect with teammates during company-wide meetings by presenting conversation-starting questions. Our follow-up surveys consistently reveal that people enjoy the activities because they add a needed break when presenting a lot of content."
Each year, the KellyConnect team decides on a theme for their town halls. The icebreaker activities break up the content into chunks and re-engage attendees. "For this year's sports theme, I peppered in questions about the topic (sports trivia or asking participants how they're staying active) throughout the slide deck. Last year it was sweets, which started a debate about whether s'mores were better for summer or fall. That truly opened communication for the organization."
With around two hundred and fifty people participating, KellyConnect builds a sense of community among employees no matter where they're joining from. "Even before the pandemic, our meetings had a remote component. They were always split between in-person and online because we have employees across the country," said Alyssa.
"Now that we closed our headquarters during COVID-19, we're completely online. We continue embedding Poll Everywhere activities into our PowerPoint slides and sharing the live results."
Engaging with trainees
In addition to town hall meetings, the Training and Development team also host a series of employee trainings with built-in interaction. KellyConnect hires, trains, and manages advisors for their clients so they can provide technical support across the United States. "The training is both on the technical and leadership sides — if an advisor would like to take on a team lead role, the team provides the professional training too."
As part of the training program, the team also hosts a summit where employees can participate in professional development sessions and learn from other departments in the company. Like in town halls, Tincknell brings in audience voices with Poll Everywhere questions. One tactic she uses is to insert multiple choice activities for trivia or would-you-rather questions. Examples include using word clouds and open-ended questions to ask attendees what they're watching, listening to, or reading.
To stay in touch with trainees, Alyssa Tincknell has also implemented Surveys in Poll Everywhere. "I send the response link to advisors as they're practicing with a supervisor so we can get a sense of how they're doing. By using multiple choice and ranking activities throughout to ask questions that gauge the user expectation, I can then export the results to gain insights on advisors' experiences."
KellyConnect, with Alyssa Tincknell steering, is looking ahead at new ways to hear from employees during meetings. She has recently looked at employing a feedback survey taken live at the end of a presentation.
Poll Everywhere for learning and development
Power your next professional development training with live audience feedback.