Dr. Paul Gordon is Professor of Family and Community Medicine, teaching clinical thinking to med students at the University of Arizona College of Medicine in Tucson. His classes are designed to help students sort out important details from medical histories, choose the necessary tests, and arrive at a diagnosis.
For the last three years, Dr. Gordon has been using Poll Everywhere's Q&A poll (formerly known as Discourses) to quickly collect students' ideas, and allow them to upvote the best to the top of the list.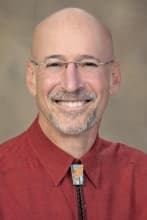 From no-tech to high-tech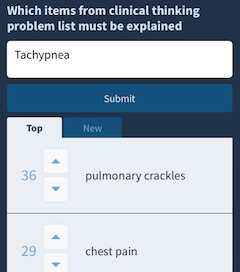 "We used to do it as an open discussion. I'd present the patient's history, and I'd ask, 'Which items from this history belong on the clinical thinking problem list?' Or 'What details from the physical exam need to be explained by a diagnosis?'' And then I'd write what they said on the chalkboard."
When a tech support expert at the college suggested Dr. Gordon could do the same task more quickly with a Q&A poll, he gave it a try.
It had some unexpected results. "It gave students much more opportunity to get involved in the discussion. Plus, it was anonymous, so they weren't holding back." He also found that the up and downvoting reduced redundancy. Students could simply upvote responses they agreed with, instead of typing them out for the second or third time.
Seamless integration, once and done
Dr. Gordon is still using the same Q&A questions he has used since he set them up three years ago. They're integrated into slides in his PowerPoint deck, organized class by class. "I saw the PowerPoint integration app on the website and thought, Perfect! That's exactly what I want it to do. The format is basically the same for each class, so I just put 18 or 19 questions in each clinical case deck, and leave them there." He archives responses after each use, and then the questions are ready for the next session.
Dr. Gordon's students seem to appreciate the Q&A discussion format. "It took them a while to get used to it, but now they love it. They really enjoy it."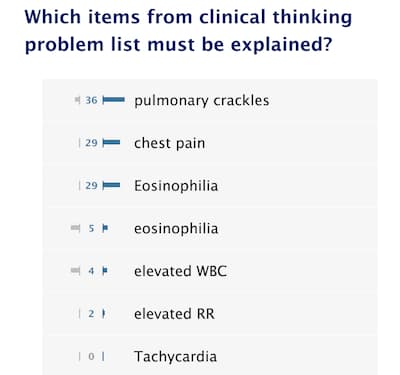 How can you do this?
Step 1
Download the PowerPoint Presenter App, and install it on the computer you use for presenting lectures.
Step 2
Create your Q&A questions in Poll Everywhere.
Step 3
In PowerPoint, click Insert Polls from the Poll Everywhere menu at the top-right of your PowerPoint ribbon
Step 4
Click the questions you want to include. Move them to the correct spots in the deck by dragging and dropping or copy/pasting the thumbnail of the poll slides.
Step 5
Questions will activate when you display your deck in slideshow mode. Make sure your computer is connected to the internet, and that you are signed into the Presenter app.
Step 6
If you plan to reuse the same questions in your next session, clear the responses by selecting the question titles on your Activities and clicking Clear Responses on the top menu.
Back to gallery