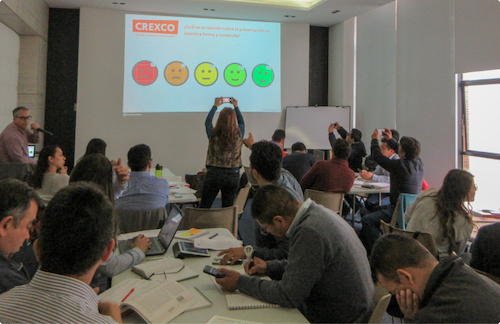 Location

Colombia

Size

10+

Use case

Higher education
Students appreciate the gamification.
Guido Mazzanti, educator at Universidad de los Andes, brings Poll Everywhere into his continuing education courses to get everyone talking. "I try to give both the introverts and extroverts the opportunity to participate and share their opinions."
Adapting to distance learning
Specializing in leadership, strategic planning, and consultative sales, Guido values live student engagement in his courses and has been using Poll Everywhere to accomplish that for almost six years. Typically, he uses the software in a face-to-face classroom setting. "Because I teach working professionals, we have to condense the course content into one day sessions so my classes are eight hours long each, with a coffee and lunch break. Depending on the course content, I insert Poll Everywhere activities about every hour of class to collect feedback and proposals."
Working primarily with multiple choice and word cloud activities, Guido likes to keep things simple and focus on building community within the classroom. "Students enjoy seeing their answers on the screen, especially when others are submitting the same response."
He starts with easy icebreaker activities to get everyone comfortable with responding to live activities, and then moves into questions related to the material.
With the transition to distance learning, Guido worked long hours to move his in-person class to a synchronous, remote format.
We had a smooth transition with Poll Everywhere because students were joining on their computers and could respond to activities easily on the browser. I shared my screen with my PowerPoint presentation and as soon as I'd advance to the next slide, the Poll Everywhere activities would show the results.