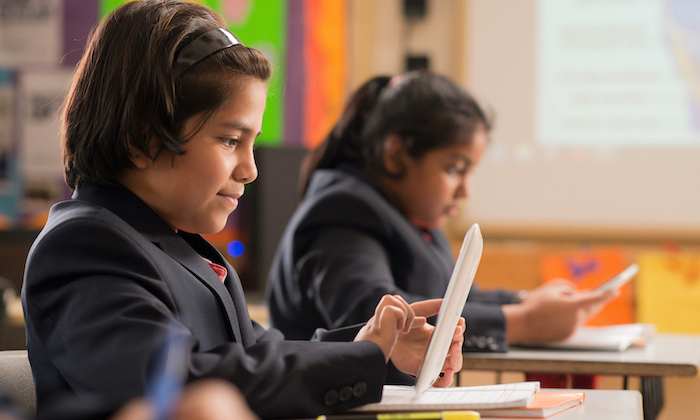 Location

Mumbai

Size

10+

Use case

K-12
It's a really simple tool, but at the same time it gives you a lot of perspective and understanding, especially when you use it in an educational setting.
Aasavri Borgharkar, Educator at Ryan Global School, brought Poll Everywhere to her virtual classroom to connect with students throughout the session. "We use it to capture students' attention and to ensure there is thorough understanding, but also to make it interactive. The students really enjoy that because it's a break from listening to the material."
Finding a solution for online engagement
Aasavri teaches psychology A levels at Ryan Global School. As the school transitioned to distance learning, they needed to find a solution to keep students actively engaged in the material. "The shift to fully remote learning was very sudden for each one of us, even though we were partially online before then. We realized that the biggest challenge was understanding whether students were really paying attention and having a clear idea of their understanding of the concepts in a remote setting. Another element was finding out how much the teacher can keep talking without hearing anything from the students. There has to be some kind of interaction happening between them."
To address these challenges, Ryan Global School started searching for tools that could capture students' attention. That's when their Secondary coordinator discovered Poll Everywhere. "Our complete team undertook a training session where we all created accounts together and made our first activities. Then, we shared them with each other and got the chance to respond. It was a fun opportunity for the teachers to see how students would experience the same."
After that training session, all of the subject specialists started using Poll Everywhere in their classes with the help of the Google Slides integration.
As we are a Google for Education school, I started with building my slide deck. Wherever I feel like I need to check if my students are with me and if they've understood the concept, I'll insert a question with the Poll Everywhere app for Google Slides.
Hearing student voices
The first time Aasavri introduced Poll Everywhere, she got a positive response from students. "I used the mood scale on a clickable image activity just to give them an understanding of what the tool is. They were really happy because it was exciting for them to do something new and to give their opinion."
For everyone to participate, Aasavri will send the response link in the meeting chat. "After they see their responses on the shared screen, we usually have a discussion about them."
Sometimes, Aasavri will begin her class with an icebreaker to get students excited. She's also incorporated a variety of activity types throughout. "I've used multiple choice questions when I'm teaching to check if the concept is clear to them. I've also used open-ended questions, clickable image activities, and word clouds while I'm teaching. After I finish the content, I'll ask four or five questions using a Competition and they really appreciate that as well."
Planning for the future of distance learning
Looking ahead as distance learning evolves over the next semester, Aasavri sees herself continuing to use Poll Everywhere. "Even in the physical classroom, there are times where we could incorporate live activities into our slide decks."
Her advice to educators who are new to the online tools would be to approach it with a positive attitude. "At Ryan Global School, we have educators with different expertise when it comes to technology, yet we were all able to use different online tools in the remote learning scenario. Keep trying new things and practicing, and sooner or later you will become good at it."
A lot of times with online tools, we might be skeptical or hesitant to get started. The thing is, it's absolutely, completely easy to use Poll Everywhere. You definitely need to give it a try.