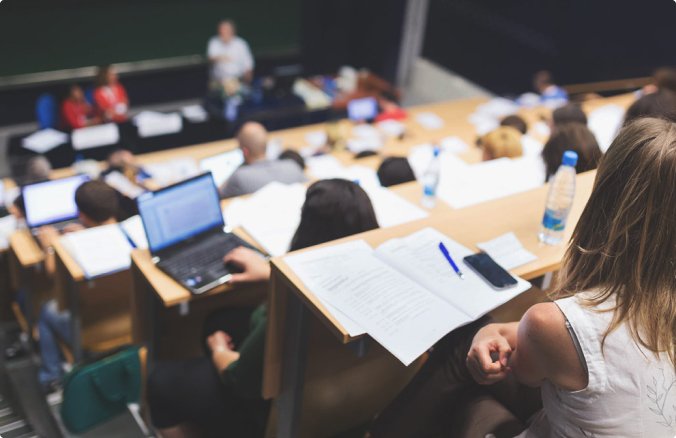 Location

New York

Size

100+

Use case

Higher education
I am always asking myself how I can bridge the gap between teaching and learning and also how to use active learning techniques to help students make sense of the material.
Usha Sankar, Ph.D., Advanced Lecturer at Fordham University, has been using Poll Everywhere for several years to encourage discussion and student participation in her physiology lectures. "My philosophy when it comes to teaching is that if you understand it, it'll stay with you, and if you memorize it, you'll forget it."
Designing interactive course content
Usha teaches human physiology predominantly to upper division Biology, Psychology, and Neuroscience majors, as well as pre-health students at Fordham University. She's taught biochemistry and anatomy as well, but human physiology is her specialty. "I always tell my students, what's not to love about human physiology? It's all about you, the human body, and the absolutely phenomenal miracle that you wake up every morning with everything working perfectly."
With almost ten years of teaching experience, Usha has found that students tend to put off engaging deeply with the course material until the night before an exam. That's where Poll Everywhere comes into play. Integrating active participation into students' grades makes those interactions more meaningful. "Poll Everywhere is a way for me to make them think about it in the moment. That really connects the students with the material as I'm speaking."
By incorporating Poll Everywhere activities into her lectures, Usha can address topics that might be more difficult or confusing.
I really like activating a multiple choice question, displaying the results, and then discussing why everyone chose those options. Students feel like they're not alone and can explain their thought processes to me and each other. That really gets a good discussion going and also helps me clear up misconceptions.
Building community
Another benefit of using Poll Everywhere is to encourage students to discuss as a group. "I might have students answer a question and then not display the correct answer. When the answer options they choose are varied, I'll tell them to find another student who responded differently and convince each other why they're right. That's another way for me to build community."
Usha incorporates a variety of activity types into her curriculum. She uses Surveys at the beginning and end of the semester, sometimes even in the middle, to check in and see how everyone is doing. "I like the option of having students submit responses asynchronously. Recently, I've started adding a link to a Poll Everywhere activity when I share my slides in advance of the lecture. With an open-ended activity, students can respond to questions like 'What was the most confusing topic?'"
Usha is also a strong believer that students should not leave the lecture hall (virtual or otherwise) with any lingering questions. At the end of class, she'll use two open-ended activities to ask 'What was the most important thing you learned today?' and 'What topic needed more clarification?'
More recently, she's had success using Competitions. "I decided to give it a try about a year and a half ago and students loved seeing their names rise and fall on the leaderboard. It was a great way for me to make review of material fun for everyone!"
Adapting to new environments
After finding ways to make Poll Everywhere fit her unique goals, Usha presented her strategy with other faculty at Fordham. "Every year, the IT department hosts an all-day workshop for faculty members with invited speakers and workshops. I'd been emailing them so much about Poll Everywhere and evangelizing about it in the biology department that they invited me to give a workshop about it. I spoke about the ways it brings in student engagement and encourages discussion, exchange of ideas, and critical thinking. I got a lot of positive feedback after my workshop presentation."
As soon as Fordham transitioned to virtual classes, Usha quickly thought of ways to connect with students and offer support. "The day after we went remote, I distributed a survey to my students using Poll Everywhere asking them about how I can help them, how I can provide support, and what they'd like to change or keep the same going forward. Everyone without exception said they wanted to keep Poll Everywhere."
Usha synthesized her students' feedback and decided to keep the same number of Poll Everywhere activities in her lectures but to remove some of the content. "It was a lot to keep up with among things like taking care of family members or having limited Wi-Fi access, or just being stressed from all the uncertainty."
Looking ahead to a hybrid or online learning model, Usha is considering incorporating Poll Everywhere into her labs as well since students already have their accounts registered.
This is a great way to get students engaged. You can use it at the beginning of the semester or class as an icebreaker, you can use it for discussions, and you can use it to ask students what they need. It can serve a lot of different purposes and can be used as the instructor sees fit.
Poll Everywhere for universities
Transform lectures into interactive learning experiences.
Learn more