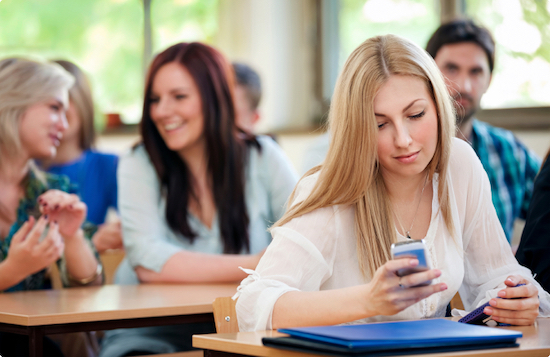 Location

Indiana

Size

10+

Use case

Higher education
Most of us attend class in person but students can join from home as well. Poll Everywhere makes it easy and fun for everyone to participate.
Olivia Ryckman, fourth year English major and Supplemental Instruction leader at Indiana University East, creates a comfortable learning environment for first year students by engaging them in live activities during class. "I like to look back and see what everyone contributed to the Poll Everywhere questions. That way I can gauge where they are and how I can better apply learning techniques to the class."
Forming connections with new students
Olivia is getting her BA in English-Creative Writing with a minor in Technical and Professional Writing. Her professor also recommended her as a Supplemental Instruction leader for the fall semester. "The week before we started classes, all the SIs attended virtual training sessions and were assigned to help teach courses we'd taken in the past. During the training, our supervisors showed us Poll Everywhere and had us run mock trials to see it in action."
Since then, Olivia has been incorporating interactive questions at key points in her slide decks with two key strategies in mind. "I use Poll Everywhere for most of my icebreakers. The activities also help students break down larger concepts and connect the material both with their writing and their personal lives."
To start class, Olivia presents some light, low-stakes questions to get everyone talking.
I might use a word cloud activity to ask 'What's your favorite study beverage?' It's fun to see what everyone says, introduce students to each other, and make them feel like we're all in the same boat.
Breaking down concepts
Poll Everywhere also helps Olivia's students connect more deeply with the material. "Just recently, we were covering writing thresholds. I asked questions like 'What resonated with you the most?' or 'What was the most intriguing part of the reading?' That way, students could engage in discussions and share their experiences with the group."
With all the changes that come with hybrid and distance learning, Olivia is constantly adjusting her workflow. "I try to plan my activities and slides as early as possible but there's new information coming at me every single day even though I've taken this class before. These are new students and we're in a completely new kind of learning environment, so I try to keep things simple and center the content around one main idea."
Poll Everywhere is now a staple of Olivia's teaching toolkit. "I plan on going to graduate school at IUE for the next two years, and I can see myself using Poll Everywhere again if I'm asked to be a teaching assistant or supplemental instruction leader."