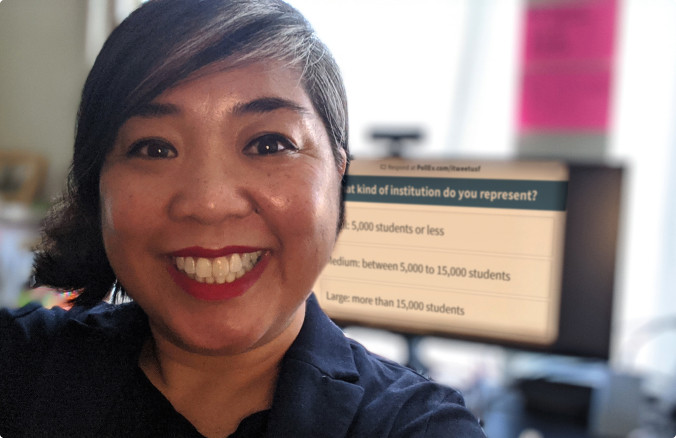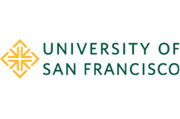 Location

California

Size

100+

Use case

Higher Education
"Being in a space where you can talk about fears, concerns, and sadness, but also share joys, ask questions, and relax a little bit leads to really good in-depth conversations. This is the tool that allows me to do that. It doesn't replace my teaching, but acts as an adjunct."
Charlene Lobo Soriano has been working at the University of San Francisco for twenty years, currently as Academic Success Coach and Associate Dean of Persistence and Retention. She typically works with under-represented, historically marginalized students, like first-generation college students, students of color, undocumented students, and non-traditional aged students. "Helping students transition into college has been my vocation."
Implementing Poll Everywhere
Charlene discovered Poll Everywhere about a decade ago, when she saw the need to move away from standalone devices that students were required to buy as part of their classroom and textbook expenses. "We were able to give students the tools to do the work with things they already had. If they didn't have a phone, they could respond on their laptop, so there were lots of ways to capture that information."
Since then, she's been adding word clouds, multiple choice questions, and open-ended activities in her own work and introducing the tool to faculty who were looking for a similar alternative. "I teach a Psychology of Success class, which looks at life design and the mindset to be successful in college. We're asking intimate questions and students can see that others' responses are almost exactly what they had submitted. So if I'm presenting a word cloud and we see a certain word become extremely large, we can stop the class and discuss as a group."
To Charlene, Poll Everywhere is more than a software for participation and grading.
"It's great to take roll and give quizzes, but at the end of the day it's about engaging with students in a meaningful way. We're using something that's not going to cost them any more than what they already have, but also give them the chance to talk to each other because they can see that they've all shared a lot. They're not really strangers."
Hearing from everyone at scale
Once a faculty member discovers Poll Everywhere, the Google Slides integration makes incorporating live activities seamless. "We use it on a small scale to foster discussion in the classroom, but we've also started using it at large-scale events. At an event of around 1000 attendees, we asked students about the identities they occupy. Using Poll Everywhere to capture people's reactions and thoughts really showed us the power of using this kind of tool. It gave us the ability to open the door for conversations."
Feedback like this allows faculty to talk about the realities of the college experience "in a way that's accessible, meaningful, and also gives students the opportunity to be heard."
Charlene's advice to starting out with Poll Everywhere is "not to use the tool for the sake of using it" and instead to be "really intentional and mindful about how you bring it into practice." After collecting students' responses, "how you receive that information, how you respect it, and how you share it in a meaningful way can really help students overcome their challenges or understand what the challenges are."
Poll Everywhere for universities
Create an interactive classroom experience and spark conversations that matter.