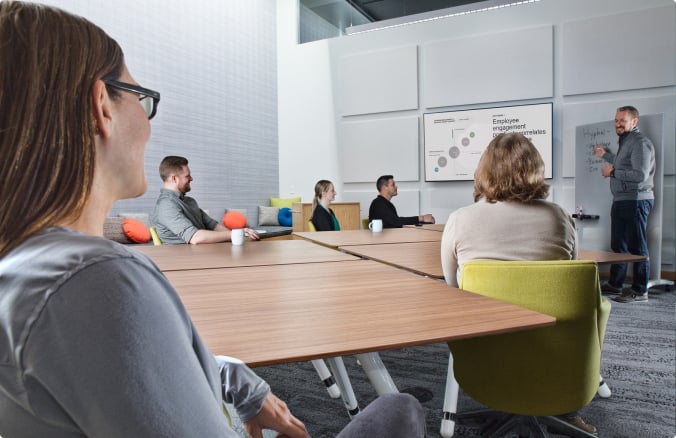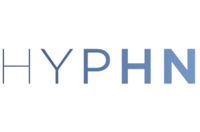 Location

Oregon

Size

100+

Use case

Corporate learning & development
"It's really challenging for presenters to understand if everyone is on the same page in a virtual environment, so Poll Everywhere gives us a good place to check in during the conversation and provides a much needed break from continuously talking."
Heather Leachman-Beck, Director of Workplace Innovation at Hyphn, promotes transparency in both internal and external meetings with engaging questions. "It's been really helpful to have direct input from participants as opposed to my own personal interpretation of the feedback, which allows us to move ideas or concepts forward that wouldn't have been possible otherwise."
Breaking through the silence
At Hyphn, Heather leads company-wide meetings and presents change management strategies to clients based on their needs. "A lot of my work was done in person. Gathering information involved sticky notes and live discussions. As I was shifting my work to a virtual world, I felt like I was totally missing a lot of feedback in conversations. Thinking about it from my personal perspective of being more of an introvert, I realized that a lot of people are very uncomfortable speaking up on a video call and might just stay silent throughout conversations, especially on calls with the leadership team or the entire company."
While looking for a streamlined way to collect and record live feedback, Heather discovered Poll Everywhere during a webinar she attended in April. "After responding to one of the presenter's activities, I thought it was exactly what we needed."
Heather started testing out the software at internal all-hands meetings first with activities like word clouds and clickable images. "The most important question for me is the icebreaker. It allows me to gauge the team's overall mood before we start discussing the main content. For example, I like to ask 'What is your weather forecast for today?' With a clickable image, I provide a range from stormy to sunny and let participants choose where they are that day. That helps me adapt the tone of the conversation in real time, which has been really valuable for our team. When you have up to two hundred people on a call, being able to collect feedback from everyone which is then immediately aggregated and organized in front of us is a great way to break through the silence."
After her interactive presentations, Heather began consolidating all the results in a single document.
"It's been really valuable for me to be able to collect feedback in real time, record the meeting, and send an overview to company leadership. I present the outcomes from the meeting and my suggestions for how to move forward. That way, I can align everyone on the team."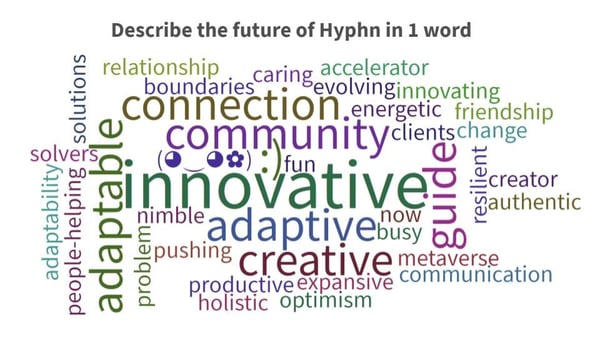 Building community with audience members
Since then, Heather has also implemented live activities into her external presentations as well. "I realized that the activities I ran with clients were all going to be transitioning to virtual, which was very different from what I'd expected. In order to gather all the information, I needed to implement Poll Everywhere into the process."
During client sessions, Poll Everywhere plays a similar role. "It provides a pause in between presenting information and allows me to level set, understand the commonalities between the feedback that's being provided, and make sure that people are listening. It's been very helpful to understand where people are even if they don't necessarily respond verbally."
Building relationships with audience members is key when it comes to hearing their feedback. "As an outside resource, creating that sense of comfort and getting people to share is very uncomfortable at the beginning without any sort of tool to gather information. It did feel very much like I was just speaking to a screen before I incorporated Poll Everywhere. I've used activities for fun, silly exercises that break up the monotony of information. Change management can get a little dry, so making it fun, interesting, interactive, and comfortable for everyone to share is my priority."
Heather is looking forward to building this new workflow into her meetings even when they return to an in-person setting. "It's a much more egalitarian experience, especially when you have people joining from different locations."
"Poll Everywhere is so unexpected in meetings if attendees haven't experienced it before. So far I've only received positive feedback and gratitude for the ability to have that level of conversation with that many people."
Poll Everywhere for learning and development
Spark dialogue that drives meaningful change in your organization.