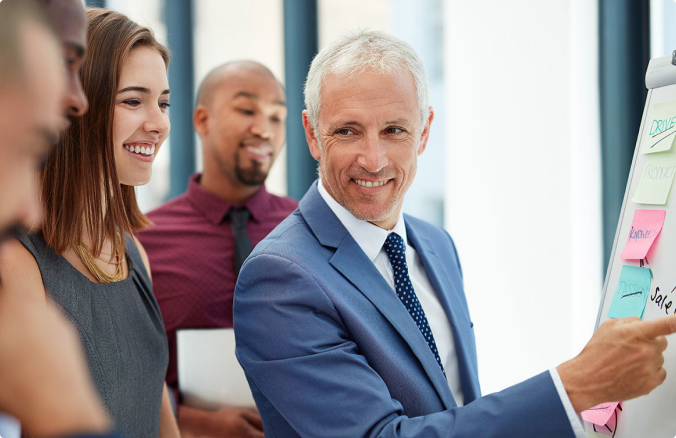 Location

Michigan

Size

10+

Use case

Corporate learning & development
With a vast majority of my work being facilitation, I want to keep sessions interactive even when transitioning from physical to virtual and then potentially a hybrid model where I'm doing both.
Business coach Tom Hamp brings Poll Everywhere into his virtual group sessions at AdviCoach, conducting employee surveys and leading presentations where he gathers feedback from attendees. "It's really easy to get started because the controls are right there in your PowerPoint and you're able to add activities directly into your presentations."
Designing engaging meetings
Tom structures his presentations with interactivity built in at every critical step, using a variety of activity types. "The first activities I present are icebreakers to get people familiar with how Poll Everywhere works, especially when we're looking for more personal answers later on in the session. I use 'Would You Rather' questions so they can get used to responding on the website or via text."
After the audience gets acquainted with the software, "it's really about grabbing information later in the presentation. I'll present some broad, general topics and get their input. I really love word clouds — that's an eye-catcher right from the get-go."
Then, towards the end of his facilitation sessions, Tom asks the heavy hitters. "I ask questions like 'What should the company start doing, continue doing, and stop doing?' and let them respond honestly to get their valuable input."
The key to walking away with actionable insights is the sense of security anonymous questions provide.
When they start to see the type of interaction that Poll Everywhere can bring, participants start to feel more comfortable. My job as a facilitator is to call on them if they're not saying much, but I think Poll Everywhere helps because people are putting their thoughts out there and there are no names associated with them.
Building two-way conversations
With anonymous responses presented on the shared screen, Poll Everywhere opens the door to honest conversations. "I never try to single anybody out, but if there's something we're not clear on or need more explanation on, I try to draw on everybody's experience."
Tom has worked hard on developing a reliable system to test his presentations and live activities. "I like to be prepared in advance instead of creating and presenting activities at the last minute. I do a lot of testing just to make sure it's coming out the way I want it to, especially if I'm using a new activity for my presentation. That's a direct reflection on who I am as a professional."
In the future, Tom is considering ways to incorporate more Poll Everywhere activities with his clients, both during live sessions and on his firm's social media channels. "It shouldn't be one-way. I want engagement, and what better way than to ask questions with real-time results?"
Poll Everywhere for online meetings
Boost engagement at your next virtual meeting, presentation, or event.
Learn more