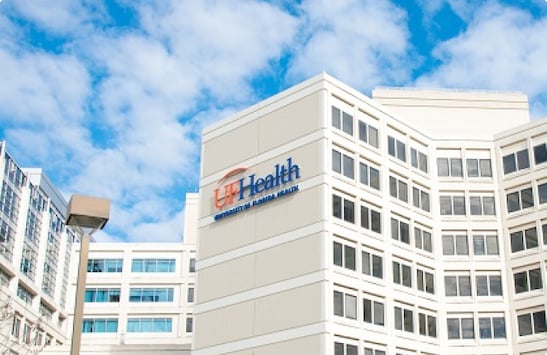 Location

Florida

Size

100+

Use case

Events
"Poll Everywhere is reliable, intuitive, and simple. We've now incorporated it into every single virtual training we facilitate and colleagues in other departments have shown interest in using it too."
Dan Kurmaskie, Director of Training and Development, and Carla Walter, Organizational Development Specialist at UF Health Jacksonville, designed a series of impactful virtual events with Poll Everywhere. "Through this experience with Poll Everywhere, we discovered new ways to engage the audience and lead discussions."
Setting the stage
UF Health Jacksonville is a hospital system with about sixty clinics, two major hospitals, and the College of Medicine. That adds up to over seven hundred leaders and division chairs.
Typically, the team would attend a gathering in person several times a year. "We'd get together in a conference center, hear from a keynote speaker, and receive updates on the hospital system as a whole. The difference we try to make is to focus on learning together, hence the title Leadership Development Institute (LDI)."
Working with Training Coordinator Toni Calandro and Training and Development Manager Bryce V. McNair, Dan and Carla were faced with the challenge of adapting a large, in-person conference to a fully virtual experience. "Working with our keynote speaker Barbara Trautlein, author and creator of the CQ System for Developing Change Intelligent Leaders and Organizations, we divided the agenda into three different sessions rather than requiring attendees to join a video call for an entire day."
The agenda followed a story structure, with a clear beginning, middle, and end. "The first session set a baseline, allowing Barbara to introduce the CQ system and help attendees understand their results. Next, we presented a video montage showing the ups and downs of working from home overlaid with the concepts of leading ourselves and leading others."
With each session, the content built on itself with more nuanced structures. "The second session introduced seven different leadership styles based on the initial model and the third covered leading teams."
Engaging the audience
While looking for a solution to create an interactive conversation with the audience, Dan decided to use Poll Everywhere to add to the LDI learning experience and Carla got started designing their unique activities. "We opened with a word cloud so we could check in with participants about how they were feeling. The results were very powerful and reflected the whole spectrum of emotions."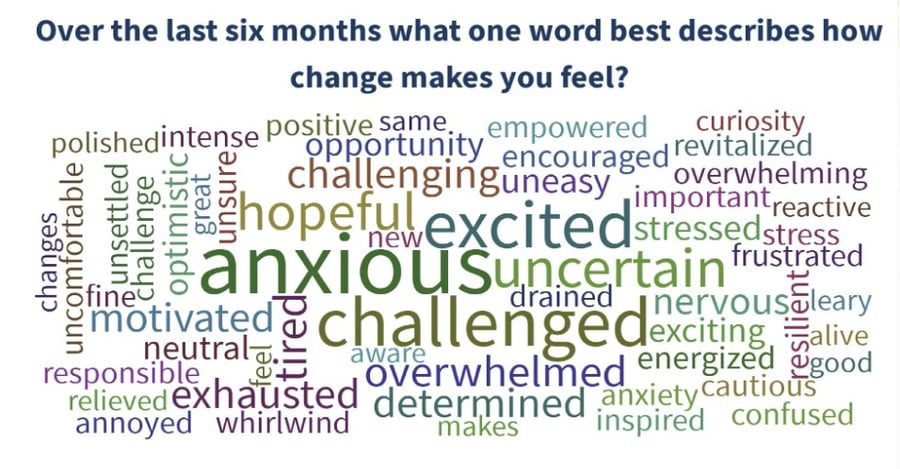 After breaking the ice and discussing the wide-ranged results, Carla and Dan also included clickable image activities in the middle of the presentation allowing attendees to place themselves on a diagram of the leadership styles according to the one they scored the highest in. Multiple choice questions followed to assess the strengths they had leaned on to lead through the pandemic.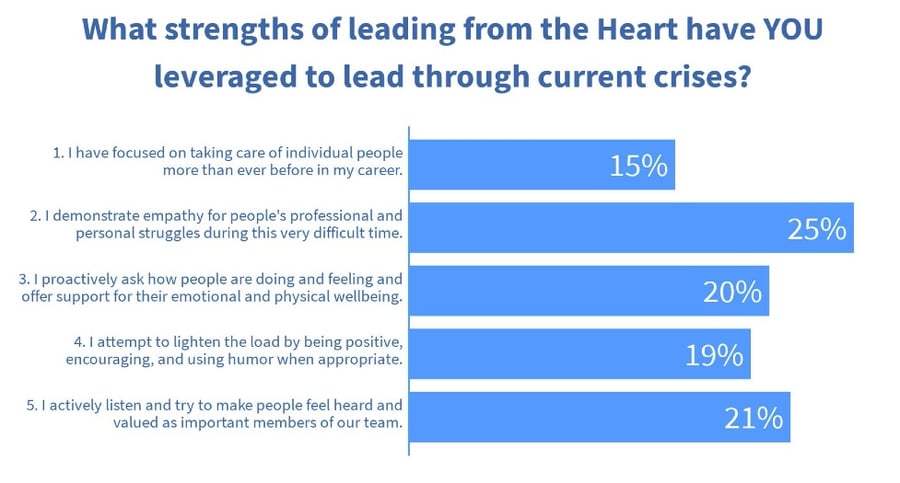 Two weeks later, attendees at the second session of the series were met with an open-ended question as they joined the call. "We started by asking 'How have you applied your insights from Session 1 on the job?' The activity refreshed participants' memories and circled back to the main concepts. We followed up throughout the rest of the session with activity types like clickable images and multiple choice questions to get to know their unique strengths."
To conclude each session, Carla asked familiar wrap-up questions used in UF Health Jacksonville classes. "We usually ask 'What was most useful to you?' or 'What one action do you commit to taking based on what you learned?' For the LDI event, we decided to ask 'What was your aha moment today?' The responses we received gave us insight into the key concepts participants took away."
Carla and Dan applied their learnings after each event to plan the next ones. For Carla, that meant incorporating more exciting visuals into the LDI Poll Everywhere activities. "We knew the audience enjoyed interacting with Poll Everywhere activities because of the initial feedback we received after the first session, so we continued iterating on how best to apply the tool to supplement the content."
"Because we could easily generate audience feedback reports after each session, we could turn the results into follow-up content, presentations, and job aids."
Poll Everywhere for Enterprise
Foster powerful conversations at scale.