Background
We all wish our office parties were as cool as the huge year-end bash at KNEIP! Months before the party starts, small teams start working on epic music videos for the big night. Then everyone comes together for a night of food, drinks, raging fun, and of course the all-important vote for the People's Choice Music Video.
Troy Bankhead, in charge of Marketing and Communication, decided to use Poll Everywhere to conduct the vote. Troy had used other polling services in the past, but said Poll Everywhere stood out with a snazzier interface and remarkable ease of use.
A diverse workforce separated by culture and location comes together
KNEIP provides solutions to asset managers and administrators that help them manage their fund data, reporting, and regulatory filing. Their company thrives on a spirit of teamwork and fresh thinking – which can be challenging, considering KNEIP employs 250 diverse professionals in six locations: Luxembourg, Paris, Brussels, Frankfurt, Lausanne, and London. KNEIP directors make a concerted effort to create a collaborative environment that fosters innovative ideas.
The year-end party is a big deal at KNEIP. It is one of the few times the entire company gathers in a single location. Employees look forward to the festivities for months and the MTV-style Video Music Awards are the highlight!
Enjoying dinner at your table while manning the polls
"The A/V guys were able to program the display software to display the Poll Everywhere webpage, and I was able to sit at my dinner table with my friends, and control the poll display with my iPhone. It was too cool." He was even able to catch and fix a last minute oversight: in the last three minutes before the poll went live, he quickly reset the response limit from unlimited to one per guest, right there at his table.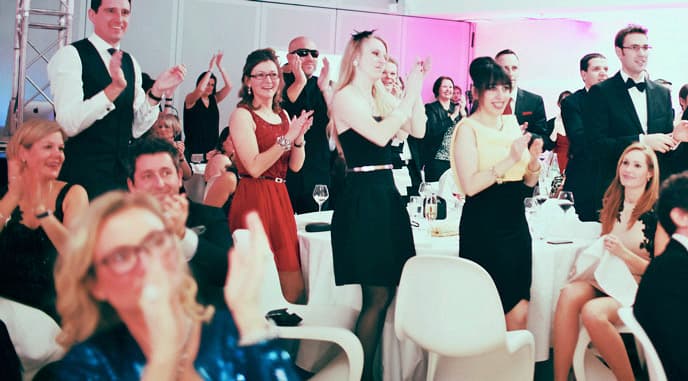 As the polls closed, the Sales team were the real stars with their perfectly titled video "Sales Queens"
How can you do this?
Step 1
Create a multiple choice poll that asks the question "Which group should win?" and list each team as an answer choice. Assigning each answer choice a Custom Keyword makes it simple.
Step 2
Enable your audience to vote using the methods you choose - SMS text and/or web. We recommend web voting to minimize international texting charges.
Step 3
Tell your audience how to vote. You can project the instructions with visual aids available on our website. It also helps to have written instructions (e.g., at the table, in a program) with detailed texting instructions. List the local numbers participants can use for texting in their votes.
Step 4
Share the results. You can either show the chart as the votes come in or do a big reveal, once the polls close. Showing results as they come in gets people excited and encourages participation.
Back to gallery