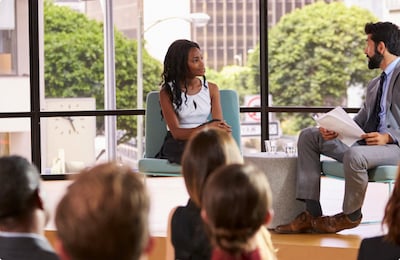 Location

Georgia

Size

10+

Use case

Corporate learning & development
"I see myself using Poll Everywhere in the classroom when I'm back onsite because I can watch participants submit responses on their cell phones or laptops live. This is definitely a tool that I will not stop using. I love it."
Tiffany Pringle, President and Facilitator at
Inspire Consulting and Management Group
, is a corporate trainer specializing in professional development across a range of industries. She recently integrated Poll Everywhere activities into her presentations to create more engaging online experiences. "Because I'm doing more virtual training, I needed to find interactive activities to incorporate.
Sparking dialogue
During her trainings in areas like emotional intelligence, unconscious bias, time management, and other critical topics in the workplace, Tiffany's audience can range in age, background, and experience even within the same session. Poll Everywhere lets her hear from everyone.
Tiffany first discovered Poll Everywhere at a webinar where she saw a word cloud live in action. After speaking with a representative, she created her account and started incorporating her own word clouds and open-ended activities throughout her presentations. "Hearing the positive feedback from participants was exciting for me because it showed me that I accomplished what I was trying to do by bringing in this new addition. Poll Everywhere gives you a whole new level of engagement."
As she was getting familiar with the tool and exploring the different features and activity types, Tiffany reached out to customer support to get personalized help.
"The customer service department has been the best. They were efficient, prompt, and happy to help me through the process as a new user."
Creating a custom experience
Working within PowerPoint, Tiffany usually starts by creating her slide deck and then "thinking of ways to make it interactive." To do that, she typically embeds a live question at the start of the presentation, right after the agenda. "I'll ask for one word that describes that day's topic." Then, towards the end of the meeting, she'll ask 'What is one thing you will do now that you've attended this training moving forward?' or 'How will you improve?' That gives participants an opportunity to submit a long-form response and see everyone's results on the screen.
Now, when other trainers see Tiffany's interactive sessions, they want to learn more about how she's engaging her audience. "Poll Everywhere has been my secret weapon."
As Tiffany continues to facilitate important discussions in the workplace, she's coming up with creative ways to engage participants. "I'm trying to incorporate different activities every week, so I can learn and continue creating a positive experience." Most recently, she presented a multiple choice activity where participants shared how they scored on their emotional intelligence assessment.
"Play with the tool first before you insert activities into your presentation. Then, reach out to a friend or a colleague to test the software. I've done that a few times and they were able to tell me what's working well or what I need to do differently."
Poll Everywhere for virtual workshops
Turn your next online meeting into an impactful discussion with live interaction.