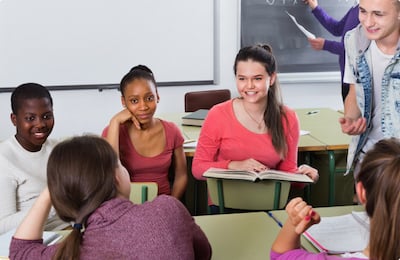 Location

Virginia

Size

10+

Use case

Higher Education
"I wanted to document how Poll Everywhere is a cool tool that can be used to support instruction."
Finding innovative ways to engage
Dr. Moore first discovered Poll Everywhere while working as the Lead Instructional Designer at the University of North Carolina at Chapel Hill School of Government (SOG). "In my role, I was tasked with supporting our instructors as they looked for ways to integrate technology into their teaching. UNC- Chapel Hill was evaluating tools to engage large lecture courses and had identified Poll Everywhere as a tool they wanted to pilot. That made it easier for me to implement it with the SOG faculty."
One of the SOG faculty members and co-author of the paper, Jamie Markham, decided to integrate Poll Everywhere at a more advanced level than multiple choice or true-false questions. "I thought Jamie had an innovative approach to using Poll Everywhere. He incorporated rankings, clickable images, and other activity types to engage students. Together with Dr. Stephanie Blackmon, Jamie and I decided to document that work by turning it into an academic paper. We wanted other faculty to learn about the innovative work being done in Jamie's courses and hopefully inspire their own use of Poll Everywhere."
The paper covers the benefits of incorporating live interaction during class by exploring it within the context of Kolb's Experiential Learning Cycle. The authors concluded, "Although m-Learning may have its challenges, the current work [shows] how the combination of mobile devices and an SRS [student response system], with a bit of gamification, can provide a positive learning environment for adult students."
Adding interactivity to online courses
Now, Dr. Moore is teaching online classes at Old Dominion and utilizing many of the same techniques that Jamie uses in his courses. "I teach synchronous online courses which have a scheduled class time, and I conduct the live class sessions using a video conferencing platform. With my students connecting from home, I wanted a way to foster interaction and keep the class engaged. That's where Poll Everywhere has come in. I embed my Poll Everywhere activities into my PowerPoint slides. When Ipresent slides and get to a Poll Everywhere activity, students know to head to the URL and respond.And then we can discuss the results without having to leave PowerPoint as Poll Everywhere results are shown on the screen."
Dr. Moore begins every class with a Poll Everywhere activity about how the readings went so he can get a sense of the topics he should cover. This helps determine how to structure the course and allows the class to cover any confusing aspects while they are all together.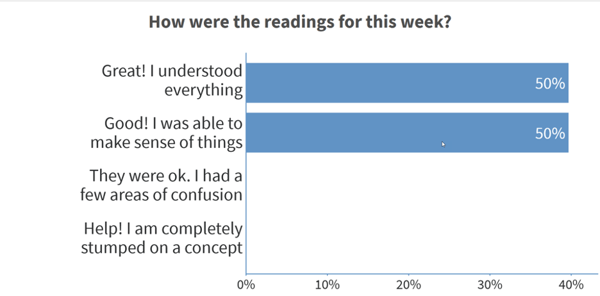 Poll Everywhere allows for ranking questions which can present a more nuanced response than a traditional multiple choice. An example is how Dr. Moore solicited feedback from students on how they wanted to structure weekly takeaways from the readings. "With a multiple-choice response, it is hard to know what the true preference is. With these ranking questions, each student gets to individually rank their preferences and then Poll Everywhere presents the aggregated results."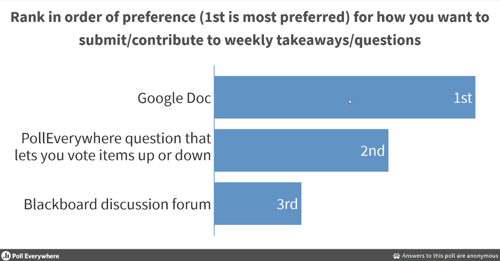 Dr. Moore has also explored a variety of activity types, from word clouds to competitions to clickable images. "We were having a discussion about how to label the instructional design field, so I created a clickable image, asked the students to select which label they felt was the best fit, and then we discussed their selections."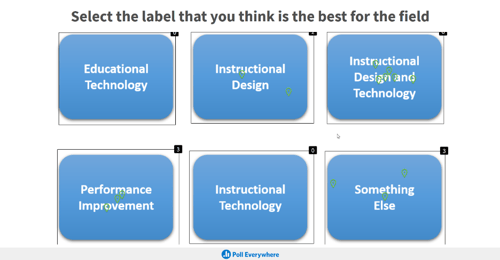 At the end of class, he collects questions with the Q&A activity. "It helps me organize the discussion better, because common questions are grouped based on upvotes or downvotes. I can visually see the patterns, and the students see the questions right there too. That has been really helpful."
Connecting with students after class
If certain questions aren't addressed live, Dr. Moore can follow up in detail and provide resources after the session. "Because results are stored in the cloud, I'm able to go back after class and respond to questions in an email to the students."
Dr. Moore has heard positive feedback from students about their Poll Everywhere experience. "Students really like it because it's easy to use. They don't have to use clickers, which has been an issue in the past, and the questions are anonymous. The great thing about Poll Everywhere is that it's web-based so I can use it in a synchronous setting. It helps us connect."
"Particularly as it relates to COVID-19 with so much distance learning going on, Poll Everywhere is a great tool to use. If you're teaching a synchronous class, you simply can't have everyone talk. This is a way to make sure that everyone's voice is heard and their perspective is represented."
Poll Everywhere for universities
Engage students in any learning environment.