Host interactive remote meetings, anywhere.
Capture powerful feedback instantly during virtual meetings, classes, events, and more.
Get started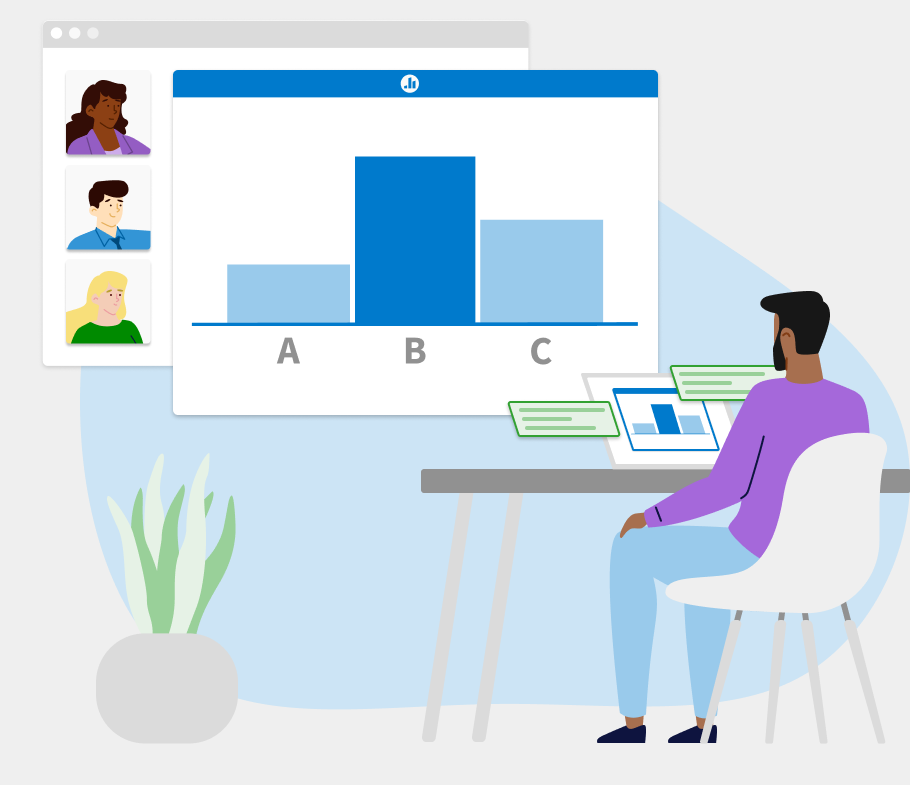 Actionable team insights
Visualize employee feedback in real time with a variety of activities — then measure engagement, follow up on feedback, and uncover next steps.
Engaging distance learning
Use Poll Everywhere activities to take attendance, give quizzes, and gauge understanding whether your students are near or far.
Apps that work where you do
Download the Poll Everywhere app for PowerPoint, Keynote, or Google Slides and add polls to your existing presentation decks in just a few clicks.
Engaging millions of teams worldwide
Over 75% of the Fortune 500 and 300,000+ educators have trusted Poll Everywhere to facilitate impactful discussions.
Online trivia with Poll Everywhere Competitions
Whether you're hosting a happy hour for your remote team, virtual office hours with your students, or an online trivia party with friends and family, bring video calls to life with Competitions. Who will be your group's next trivia champ?
Q&A sessions that include everyone
When microphones are muted, how can you engage your teammates, students, or event attendees? Use Q&A activities to open the floor and spark meaningful conversations between presenters and participants.
Remote work resources for your new routine
Working remotely for the first time? Looking for tips for using Poll Everywhere with your favorite virtual meeting platform? Visit the resource library for free tips and techniques to enhance the way you work from home.
Gather live audience feedback wherever you work
Watch results fill the screen as participants respond in real time from their devices.
Get started with Poll Everywhere
Create your account today for better engagement during online meetings, classes, and events.
Sign up today
Audience response at any scale
Learn how Poll Everywhere helps turn ordinary presentations into compelling conversations.