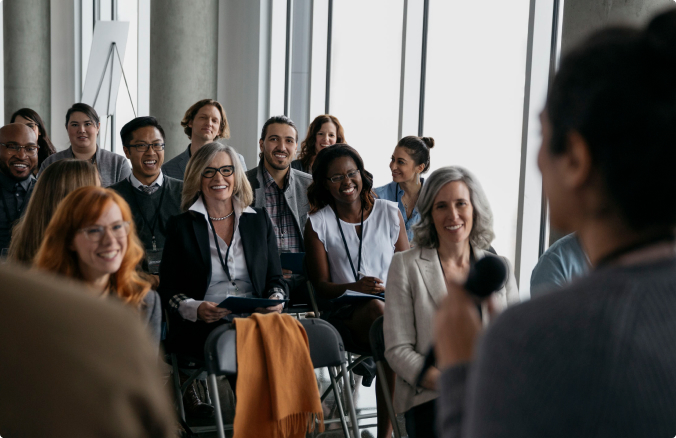 Location

Pennsylvania

Size

100+

Use case

Corporate learning & development
"A hallmark of the workshops and teaching I run is getting people in large audiences engaged. Before COVID-19, I gave 98% of my presentations face-to-face and sometimes used an audience response system, but the clicker technology was limited. The first time I saw someone teach a class online using Poll Everywhere, I was intrigued."
Katherine Urban, Director of Professional Development, Development and Alumni Relations at the University of Pennsylvania, has brought engagement into her virtual training sessions by incorporating Poll Everywhere activities in her work. "Poll Everywhere let us reach the objective of teaching an engaging class without it being face-to-face."
Establishing participant communication
Specializing in topics like management, leadership, communication, team building, work planning, and frontline fundraising, Katherine works with the staff at Penn and co-owns a small consulting company targeted toward professional organizations small and large. Katherine's approach to using Poll Everywhere is simple: to get participants thinking. "I have enough background in instructional design to recognize that you can't go more than 10 minutes in a face-to-face presentation before you need to be doing something different, whether it's getting a response or engaging your participants in an activity. I'm learning that online, the timeframe is much shorter. You just can't stare at a screen for 10 minutes and remain engaged."
After discovering Poll Everywhere, one of the first presentations she gave was for the Association of Fundraising Professionals.
"It was supposed to be set up as an online meeting with all the different interactive bells and whistles, including the ability to unmute participants' microphones and split up into breakout rooms. Instead, the facilitators configured the event as a webinar so it was one-way only. What was terrific was that I could use Poll Everywhere to get people talking. It would not have been nearly as successful a presentation without it."
Adding interactivity to remote workshops
More recently, Katherine ran a two-day-long, hands-on workshop about managing teams. She let participants respond via text about topics like their top three challenges and overall sentiments. "By starting with word clouds, we immediately established communication with people. Nobody wants to be the first person to talk, but when we use a word cloud, they all feel more comfortable because they can see others' responses."
With the results on the screen, she could then call out the words that grew the largest and ask participants to unmute and discuss them. "All you have to do is get one or two people to raise their hand and talk. By using word clouds, we started a dialogue."
Katherine also supplemented with multiple choice questions throughout her presentation so she could get direct feedback about the specific topics on the slides. On the second day of the workshop, she opened her presentation with questions like 'What was something valuable from yesterday's session?' and 'What are some topics we haven't addressed yet?' Then, "Poll Everywhere allowed us to edit the material on the spot because we could see where people were engaging and what was most important to them."
As she was going through the detailed surveys after the workshop, Katherine was excited to see some very positive feedback.
"I got comments like 'I didn't think an online meeting could be that enjoyable' and many said that the level of engagement put us ahead of the curve. The two most common words that surfaced in the open-ended comments were 'surprised' and 'appreciate' — and this was only a few weeks after all the articles about Zoom fatigue were published."
Preparing for the conference room
Katherine is looking forward to discovering all the features Poll Everywhere has to offer and stepping outside of her comfort zone. For example, "One of my colleagues will be giving a presentation where she will use game theory to generate brainstorming. I'm looking into using Poll Everywhere for that."
As the University of Pennsylvania transitions to a hybrid or in-person work setup, Katherine is looking forward to incorporating more virtual meetings in the long term. "We've got a whole new skillset now so instead of doing what we have to do, we can start doing what we'd like to do. I know that we will be doing many more professional development programs online because we've discovered that I don't have to rent a classroom or get an A/V tech and people don't need to travel, so our attendance has actually been higher. I can see absolutely using Poll Everywhere virtually, but I can also see using it in a classroom or a conference room using the software on the big screen."
"Research has shown that if participants do some brainstorming privately first, you're going to get many more ideas than if people just start talking in groups right away. With Poll Everywhere activities like word clouds, open-ended, and multiple-choice questions, you can facilitate brainstorming and gather consensus in an anonymous way, even if you're all in the same room."
Poll Everywhere for online training
Run virtual workshops with strong engagement and participation.