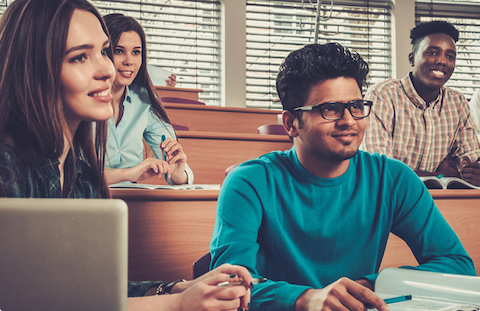 Location

Washington, D.C.

Size

10+

Use case

Higher education
I like using the Q&A activity because it brings people out of their shells. Even when we're back in person, I'll be able to solicit feedback from each student in the room.
Marquise McGraw, Ph.D., Professorial Lecturer at American University, builds student input into class discussions by asking engaging questions from the start. "Incorporating student feedback at the beginning really sets the tone that everyone's thoughts are valued, not just those of the person who always raises their hand."
Gamifying education
Marquise has been in the Department of Public Administration and Policy at American University since 2019. "I mostly teach graduate students who are working on their Masters of Public Administration and Public Policy programs."
The transition to distance learning happened very quickly, so Marquise started thinking of ways to engage students in the new environment. "I remembered that a group of my students brought gamification into the classroom one year and used the results as the basis for a discussion. I thought that was really fun, so I started looking into the tools I could use to do that myself. Poll Everywhere was the first that came to mind, and it's been working out really well for me."
Marquise approached Poll Everywhere with several key objectives in mind. "First, I wanted to make sure that the students were learning the basics from the now-prerecorded lectures and the readings for my Financing Government Services course. Now that we were online, there was no way to make sure that was going to happen — the accountability was missing. I used Competitions really early on as a fun way to review the material and see how much everyone remembered. The students really enjoyed that because they could see the leaderboard after every round and they liked competing for the lead. It added a lot of fun to the course."
Next, Marquise asked open-ended questions to hear from every voice in the meeting.
In the physical classroom, if you want to have a discussion, you're generally not going to have all of your students actively participating. Usually, you only get a few who are willing to speak up. Poll Everywhere is a really good way to engage the students who would either be a little shy or who don't feel comfortable speaking.
Sparking discussions
Q&A activities were a way to brainstorm and gather consensus as a group. "Students really enjoyed upvoting and downvoting others' responses. We used the Q&A activity for questions like 'What should we do with the corporate income tax?' The different proposals students made climbed to the top and we could use them as the basis for further discussion."
Clickable images provided a quick way to see overall sentiment at a glance. "I used the mood scale for check-ins like 'How are you feeling today?' or 'How did you like the lecture?' Students are so used to leaving reviews on different apps and websites that it was really easy for them to make the transition to those questions on Poll Everywhere."
During a guest lecture on presentation strategies for his Cost-Benefit analysis course, Marquise saw the overall benefit of engaging students early. "The guest speaker began her talk with a word cloud in Poll Everywhere to ask students, 'How do you feel like when you're giving a talk or presentation?' Students could see their responses on the screen, helping them to see the commonality of their responses. The presenter then used those responses as a launching pad into her presentation. Immediately, the students felt like they had some ownership over the rest of the content."
Marquise is planning to try new Poll Everywhere activity types in the fall since American University classes will be fully online. "I saw a demo of Surveys at a webinar I attended and I liked how people could complete them asynchronously. We could then discuss the results in our review sessions."
Especially in light of everything that's happened this summer, I'm not going to let the students in public finance classes get away without us talking about topics like racial justice or COVID-19 or the basic functioning of government. I want everybody to feel that they're heard and that their voices are respected no matter where they're coming from. Having access to technology like Poll Everywhere and using its features to get everyone's ideas out there in written form makes the conversation a little less intimidating. We can see how people are thinking and that makes it easier for us to more carefully engage in those conversations.
Poll Everywhere for universities
Power your classroom discussions with real student interaction.
Learn more