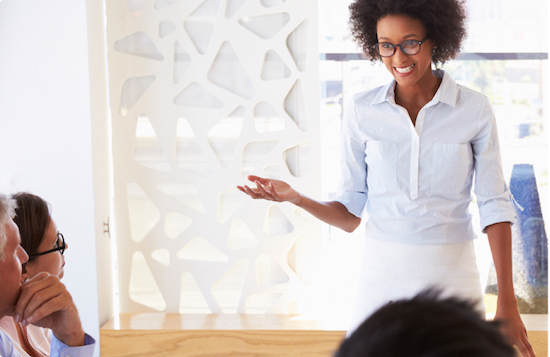 Location

Georgia

Size

10+

Use case

K-12
I'm thankful it all came together. I love how Poll Everywhere added to my presentation.
Shanessa Crook, Mental Health Therapist serving the greater Atlanta area, sparks important discussions with clients through two-way presentations. "I don't like boring trainings — I want them to feel like conversations where everyone can state their opinions and weigh in on the topic."
Providing guidance virtually
Shanessa provides mental health services to a wide range of clients, but her homebase is the staff, students, and families at elementary schools. Recently, Shanessa was looking to enhance a virtual trauma training she facilitated at a local school. "I was working with the staff on topics like thriving through the pandemic and providing student support virtually, and I wanted to turn the training into an engaging discussion rather than a typical lecture. I was brainstorming ways to incorporate something creative and interactive, especially since this was a virtual session. That's when I came across Poll Everywhere."
To kick off the session, Shanessa set the foundation for the rest of the discussion. "I started with an overview of the basics of trauma. We can always assume, but not everyone has a clear picture of what trauma looks like or what a crisis is. I broke those concepts down, making sure we were on the same page first."
From there, Shanessa incorporated a series of multiple choice questions into her presentation as a way to break up the material and allow participants to think critically. Because she expected the results to be skewed, Shanessa could use them to transition into the material.
With Poll Everywhere, I created about five different one-sentence scenarios and asked the audience to vote on whether the incident was traumatic or not. The purpose of the exercise was to show that without gathering the individual's backstory, you can't make that judgement call.
Opening the floor for discussion
After the interactive questions, Shanessa got the audience talking again. "Throughout the rest of the session, I asked open-ended questions to create an open dialogue where everyone could share their concerns, encouragement, and resources for the upcoming school year."
The interactive group activities didn't stop there. "We then watched a video on trauma, which explained the concept in teacher terms. Afterwards, we discussed how everyone felt about the video, what they gathered from it, and how it applied to their personal life."
At the very end of the session, Shanessa created an open forum for any additional questions and provided resources to refer students or staff members who may need mental health services.
I definitely will be using Poll Everywhere again. From the feedback I collected, the majority of my participants really enjoyed the interactive session and walked away with beneficial information.
Poll Everywhere for online meetings
Facilitate impactful conversations by bringing in audience voices.
Learn more