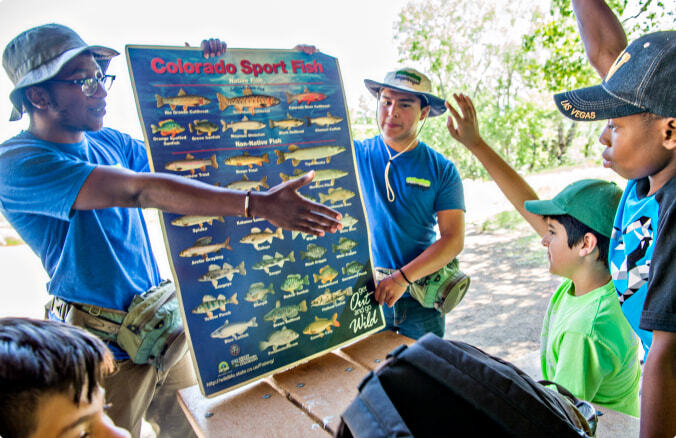 Location

Colorado

Size

10+

Use case

Community meetings
Poll Everywhere was the perfect solution to what I was looking for. We have primarily been using it for community meetings centered around our new education center and it's helped us make our meetings much more interactive, even with larger groups.
Amy Wright, Education Director at Environmental Learning for Kids, introduced Poll Everywhere as a way to create an interactive space for community feedback. "Through the activity results, we assess the needs and feedback from participants so we can build new programs."
Building shared STEM experiences
Environmental Learning for Kids (ELK) is an inclusive non-profit organization that develops inspired and responsible leaders through science education and outdoor experiences for underserved, urban youth. "We work with students from five to twenty-five and also run family programs, so we're really working with all ages. Our organization is all about outdoor experiences with STEM education and career exploration."
ELK is currently in the process of building a new education center in their community. "Our organization has always been dedicated to a specific Denver neighborhood, but our office space has been on the other side of town. We're in an amazing period right now where we're building our education center in our neighborhood. It's a beautiful, open space on four and a half acres of land. This entire project is very community driven, and our challenge during this time was maintaining that sense while everything moved to a virtual environment."
To supplement community meetings, Amy started searching for audience engagement solutions that would help spotlight attendees' voices.
The agenda followed a story structure, with a clear beginning, middle, and end. "The first session set a baseline, allowing Barbara to introduce the CQ system and help attendees understand their results. Next, we presented a video montage showing the ups and downs of working from home overlaid with the concepts of leading ourselves and leading others."
Some participants feel more comfortable voting in an activity, and we also wanted to provide open-ended questions for a variety of ways to engage.
Engaging everyone
That's when Amy found Poll Everywhere, and with it, the features she was looking for. "Before introducing Poll Everywhere to our community, I tested it thoroughly with my team to make sure there were no barriers when it came to technology access. We had so much fun trying out the different activity types and decided to bring Poll Everywhere to a community meeting."
After watching Poll Everywhere video tutorials and webinars, Amy followed the best practices on introducing Poll Everywhere to an audience as an additional way to participate in the meeting.
Overall, it was very successful. It flowed naturally and participants were able to respond easily.
Looking ahead
Soon after she created an account, Amy found out about the anti-racism product donation program. "Applying for the donation program was very easy. I sent in my submission and the Poll Everywhere team got back to me saying they had reviewed my application and I was approved."
With premium features, Amy and the ELK team can engage more participants in every activity. "Next, I'll be exploring Reports so I can create overviews of this year's meetings."
As ELK moves to a hybrid environment, they are looking into new ways to bring Poll Everywhere to their programming. "We've seen how easy virtual meetings can be and the benefits they offer. Now that we're using a hybrid model and returning some programs to in-person, we will be able to provide more flexibility for participants."
I see us continuing to use Poll Everywhere at community meetings, but also beyond as a fun element in our leadership and student programs too.
Anti-racism product donation program
We donate Poll Everywhere premium subscriptions in support of anti-racism work.
Apply today