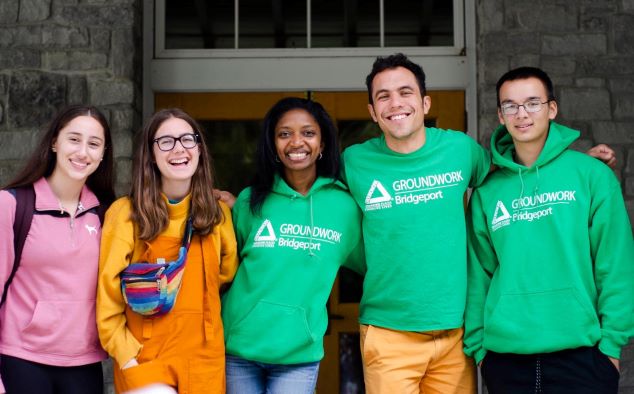 Location

Connecticut

Size

10+

Use case

Higher education
In terms of engagement and interactivity, Poll Everywhere is a really useful software platform.
Christina Smith, Executive Director and CEO, and Tanner Burgdorf, Program Lead at Groundwork Bridgeport use Poll Everywhere to encourage more participation during their service-learning program sessions. "We like using word clouds and open-ended activities to start conversations. Seeing everyone's responses helps students feel more included and willing to participate."
Groundwork Bridgeport is focused on community revitalization, both environmental and social. "As part of that and as it relates to Poll Everywhere, we work a lot with high school students, teaching them about placemaking. We run four eight-week sessions with the students sharing ways to make their community better. The students work on projects using everything that they've learned."
Each session the Groundwork Bridgeport team runs focuses on different topics, and Tanner integrates Poll Everywhere to keep students engaged in the discussions. "We've been prompting them with quick activities using Poll Everywhere, like naming places that have meaning to them or sharing projects they've been involved in previously. Poll Everywhere has worked nicely in that capacity."
Implementing Poll Everywhere
The first time Christina found out about Poll Everywhere was at an event in 2019. "The first time I saw Poll Everywhere was at a conference where we presented a placemaking project. I saw how it kept the audience engaged and took note of the software so I could use it in my own work."
When it was time to make an account, Christina did thorough research and found out about the anti-racism donation program Poll Everywhere offers. "Getting approved was straightforward and easy. It's been great to have additional responses and features like the custom username so participants can connect with our presentations."
After that, the team began using Poll Everywhere when they had to transition to virtual classes.
Students enjoyed it because participating in an activity during class was like texting. Now that we're back to in-person classes, they look forward to seeing their responses on the screen.
Branching out
As Tanner first got introduced to Poll Everywhere, the go-to activity was word clouds. "Now, I've started to explore other activity types like multiple-choice questions as rating scales. For example, we can see the percentage of the class that agrees with a certain statement at a glance."
Now, Christina and Tanner are looking ahead at additional opportunities for using Poll Everywhere. "We're often asked to conduct community engagement surveys more widely and we think Poll Everywhere would be great for that. Getting community members' input through multiple channels, not just paper surveys, gives more people a chance to respond."
With Poll Everywhere, we can use community feedback as a basis for making decisions.
Anti-racism product donation program
We donate Poll Everywhere premium subscriptions in support of anti-racism work.
Apply today