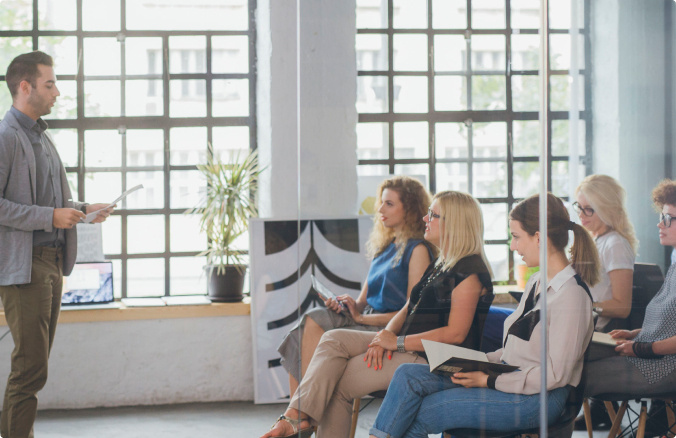 Location

Washington, D.C.

Size

100+

Use case

Team meetings
People are starting to figure out new ways to engage people, and Poll Everywhere was one of the very simple ways to accommodate a different format for a meeting.
Kris Garcia, Director of Enterprise Data and Information Strategy at the National Education Association, uses live feedback to drive strategic decision-making on his team. After seeing it in action during staff meetings and large-scale presentations, he's brought Poll Everywhere into his agile team meetings "to inform how they were going to augment the process going forward."
Making an impact in product development
Initially, the NEA's research department incorporated live Poll Everywhere activities when presenting the results of NEA member surveys. Presenters would start by asking the audience to weigh in on their expected outcomes. When the results appeared on the screen, the way those initial expectations were met sparked two-way conversations among the group. "The initial need was the engagement aspect so that you could see how people were absorbing the information."
After seeing the adoption of Poll Everywhere as an engagement tool, Kris and his team tried integrating it into their own meetings as they were building out their agile development process. At the end of every sprint, they began collecting feedback via word clouds, Q&As, and multiple choice activities for their retrospectives. Poll Everywhere got everyone talking. As members of the group voted and expressed their honest opinions, they made tangible changes to the product development process. The results from those live activities became recommendations to leadership, who took them into account and turned them into actionable next steps.
The NEA has been relying on Poll Everywhere activities to maintain the energy of face-to-face meetings with the transition to remote work. "Our leadership wants word clouds. They want to be able to see things at a glance." After a 400-person staff meeting, participants approached Kris asking how to start using the tool for their own upcoming presentations.
Kris is looking forward to providing Poll Everywhere as part of a suite of technology assets the NEA uses to support educators in their profession. "I was able to group different Teams of people, state by state, and keep everything separate. It was very easy to organize."
We always share best practices, so the states will learn from each other. Live polling is definitely something that folks have been talking about, live feedback from members. It's a good way to engage people and ensure that you're getting feedback in real time.
Poll Everywhere for Enterprise
Spark engaging conversations that drive your organization forward.
Learn more