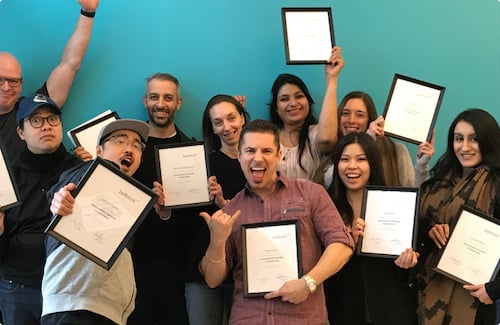 Location

Vancouver

Size

10+

Use case

Corporate learning & development
"Poll Everywhere allowed people to participate virtually in a far more comfortable way and kept them quite engaged. It also let us get that small-group, cohort feeling that we really appreciated in classroom settings."
Tara Landes, President and Founder of Bellrock, delivers effective online trainings by incorporating interactive Poll Everywhere questions into her client presentations. "I didn't think this could work but Poll Everywhere has been a real game-changer in my perspective on online learning."
Shifting training strategy
Bellrock is a management training and management consulting firm focused on small businesses with typically under a hundred employees. In the past six years, the team started running hands-on management training programs for clients. "One of the things that differentiates us is that we do very deep implementation, which means we embed a consultant into the client environment and they work shoulder-to-shoulder with the management team for three months to a year."
When the pandemic hit, Tara had to rethink the company's overall training strategy. "I was a very firm believer that training always had to happen in person because people can get disengaged and their attention can wander online. I really didn't believe that it could work for us, but we had no choice since we couldn't hold trainings in person."
To bring engagement into online meetings, Tara started out by calling on individuals to contribute. However, "That cold-calling approach doesn't work for everybody, especially for introverts who are put on the spot. Participants don't like that feeling."
That's when Tara started looking for additional tools that could keep participants' attention. She had enjoyed attending a webinar using Poll Everywhere and decided to give it a try.
"I started by going through the content and thinking of the questions I typically ask in the moment so I could create them in Poll Everywhere. In some ways that made me a better trainer as well because it forced me to think about my questions in advance and be more methodical.."
Integrating Poll Everywhere in person
Now, Tara uses multiple choice, open-ended, and clickable image activities in her PowerPoint decks during client training sessions. With the Poll Everywhere app for PowerPoint, creating and inserting activities is a matter of a few clicks.
Now that Bellrock is taking precautions and safely re-opening, trainers are bringing Poll Everywhere back into the physical classroom. "We have a couple of sessions that are now running in person with appropriate social distancing, but we're still using Poll Everywhere. It was such a great tool that we've now integrated it back into our trainings. Participants still have their phones with them so they can see the results come up on the screen in real time."
Tara and the Bellrock team are looking forward to trying out new Poll Everywhere activity types and features as they continue to use the tool in their work.
"I've been to a lot of webinars in the last few months trying to learn best practices and see what other people are doing well in larger companies. When it's just a talking head, it's brutal. I don't know why more presenters haven't adopted interactive tools like Poll Everywhere into their webinars. It works better for everyone."
Poll Everywhere for learning and development
Lead more impactful training sessions — remotely, in person, or somewhere in between.