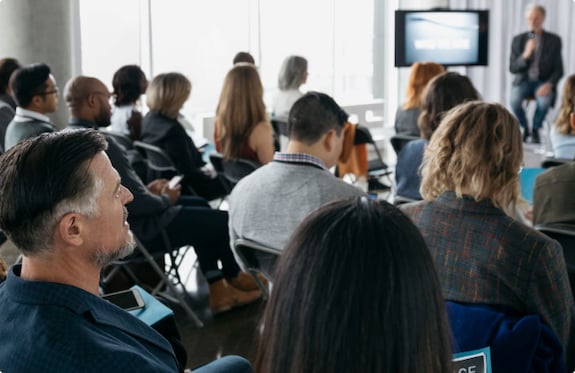 Location

Mexico

Size

10+

Use case

Events
"I fell in love with Poll Everywhere. It ran smoothly and it was fresh. I used all the different activity types available, from clickable images to word clouds, and attendees enjoyed it."
Moises Polishuk, Owner at ASISTE, has been using Poll Everywhere to analyze audience characteristics and purchase intent at live events. "Poll Everywhere is the acquisition mechanism that allows me to collect the information I need to run my algorithms."
Making the switch to Poll Everywhere
With over thirty years of experience, Moises has developed an innovative way to use live audience data. "I give a presentation which has interactive questions, then I timestamp the results, and my system rates the audience response based on several factors like the area and extent of interest. My clients' sales representatives can then use that information to tailor their messaging and create a call to action."
Moises enriches his model based on the tens of thousands of attendees who went on to purchase his clients' products and services. "I can isolate for specific characteristics like the innovation coefficient, which relates to willingness to change paradigms and make processes completely different."
For years, Moises had been distributing clickers to collect audience feedback during his presentations. Last year, he decided to make the switch to allow attendees to respond on their own devices.
"I didn't feel comfortable handing clickers out to four hundred people over two days at a major conference. That was the key trigger that pulled me to Poll Everywhere."
Understanding the audience
With Poll Everywhere activities like multiple choice and word clouds, Moises can present a series of scenarios throughout his brief presentations and get a read on the audience. "First I use a template with my clients to understand their product or service, like the range of prices and the key differentiators or competitive advantages. Then, we go through a mental map to develop the content for the session. Throughout the presentation, I add Poll Everywhere activities that are scenarios with different answer options. The audience selects the ones that they relate to the most."
Moises then exports the data from Poll Everywhere reports to use as input in his algorithm. He can then present actionable results to his clients.
Outside of his work at ASISTE, Moises is also invited to give keynote presentations at conferences around the world.
"Adding interactivity into the presentation is very powerful, so I like to include Poll Everywhere activities in my decks. Participants are more engaged that way than just by looking at plain slides."
Poll Everywhere for virtual presentations
Connect with your audience at your next event.