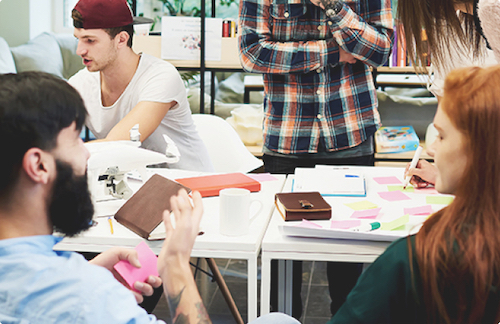 Location

Connecticut

Size

10+

Use case

Team meetings
It was a fun way to get to know each other, spark conversations, and keep everyone engaged. We learned about our teammates' most exciting trips, secret talents, and more.
Jeremy Anderson, Financial Reporting and Analysis Consultant at Aetna, uses Poll Everywhere activities to connect with colleagues in both business and after-work meetings.
Breaking the ice
After participating in a co-worker's Poll Everywhere activities last year, Jeremy created his own account before an upcoming presentation. He was sharing a new process he had implemented in the accounting department and decided to add live activities to keep everyone's attention. "I started off with a word cloud to break the ice and then ran a quiz with a series of multiple choice questions at the end. We didn't grade anyone on their responses. It was a fun activity at the end of the presentation to make sure participants were listening."
Since the audience enjoyed participating live and seeing their responses on the screen, Jeremy used Poll Everywhere again — this time in a new setting. "At a virtual happy hour, we played a game where we guessed which co-worker it was based on fun facts they submitted. I had everyone send in two or three facts about themselves and then presented them in a PowerPoint presentation. The next slide was a Poll Everywhere multiple choice activity where participants could take their guesses."
Even after the activity ended, the conversations continued as teammates found things they had in common. The live engagement got everyone talking about their personal backgrounds and experiences.
Finding new ways to engage
Jeremy is looking forward to trying out new Poll Everywhere activities like clickable images and Competitions at remote work and social events. For example, at his National Association of Black Accountants (NABA) meetings, he can replace in-person activities with Poll Everywhere. "At NABA, we participate in quizzes about specific topics for a prize. For example, last time we met during Black History Month, the quiz had Black History themed questions. I'm looking into using Poll Everywhere Competitions for that activity the next time we meet."
Poll Everywhere for virtual events
Power your next online meeting with real-time audience interaction.
Learn more