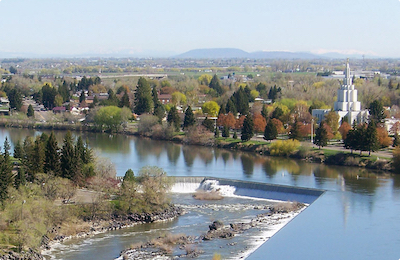 Location

Idaho

Size

100+

Use case

Community surveys
Live activities in the past have always been either giant sticky notes or dots on a map. What we really liked about Poll Everywhere is the ability to track responses and identify patterns through reporting. We've never been able to do that before.
Brad Cramer, Director of Community Development Services at the city of Idaho Falls, integrates community feedback into city plans with engaging Surveys. "After this round, we'll be experimenting with more activity types to find new ways of asking questions and making the most out of the tool."
Connecting with the community
Brad oversees planning, zoning, building, and code enforcement grants for Idaho Falls. "Just by the nature of our work, with planning especially but also with our grants and the CDBG program, we do a lot of community and public outreach to get feedback as we prepare neighborhood and comprehensive plans."
As part of recent efforts to collect more robust data and engage the public city-wide, Brad and the team started researching various tools. "Poll Everywhere came on our radar as we were gearing up for our comprehensive plan because our design consultant had an account. Instead of implementing a large-scale change, we're planning to host neighborhood based meetings where Poll Everywhere will be a really good replacement for a clicker system."
Designing data-driven initiatives
To collect initial feedback and assess overall attitude toward change, Brad created a Survey that the team is distributing to residents. "We have a parade of homes going on in the city right now, so we set up a booth as people come out of a garage and are on their way to the next house. They're grabbing a card with a QR code they can scan to access the survey."
The Survey includes visuals to present respondents with choices at a glance. "We add a series of pictures of different housing types and ask which ones would be appropriate in respondents' neighborhoods. They select all that they would be comfortable with, followed by the ones they'd be open to with certain standards in place, and then ones they think would not be appropriate at all."
Using the community feedback, Brad can set a baseline and inform decision-making at upcoming meetings. "We're going to assemble all of this data and present it at city council with some initial findings. Then we'll refine the questions and launch a press release to the general public with another feedback survey. All of that will factor into next year's neighborhood and general meetings, where we'll use the data we're gathering now to formulate more specific questions. For example, we'll start to dig deeper into the kinds of standards that would make sense and use the clickable image activity to allow participants to select locations on a map. I'm excited to see it all happen live."s
Poll Everywhere Surveys
Gather unique insights whether you're meeting live or sharing a response link.
Learn more