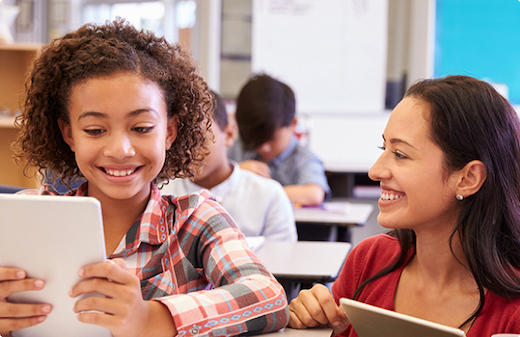 Location

California

Size

10+

Use case

K-12
The training lasted all day, and sitting in front of a computer for eight hours is hard. Poll Everywhere really helped keep everyone engaged and participating.
Katie Taylor, Special Education Teacher at the Panama-Buena Vista Union School District, adds conversation starters to turn a one-way presentation into a group discussion. "This was my first time using Poll Everywhere and I really enjoyed it. I'm planning on using it at my next presentation in the fall."
Maintaining energy remotely
Katie teaches preschool special education and leads trainings for fellow educators who are learning to make the most of resources available to them. "Our summer training for teachers in the school district was about working effectively with support staff in your classroom and maintaining a good relationship to focus on a cohesive learning environment for our students."
Because the day-long session was moved to a virtual format, Katie found Poll Everywhere as a way to keep everyone engaged. "During breaks, I would insert fun icebreakers from the Poll Everywhere for Google Slides app to give everyone some time to interact with each other, laugh a bit, and have some fun. These activities weren't mandatory but they still brought participants back into the learning environment."
At several points throughout the slides, Katie also inserts live questions to hear from the audience. "I used a combination of multiple choice, open-ended, and word cloud activities to get attendees' opinions and sentiment. For example, I asked 'Now that we're going back to distance learning, what are your biggest concerns?'"
Aligning the team
For Katie, the key was to build consensus and tackle challenges together. "One of the questions that got the most engagement was 'What kind of norms should teachers and their staff consider for distance learning?' That helped us discuss ways to approach this new way of teaching and determine how to approach classroom rules and expectations as a team. I got some really good answers and I'm really thankful for the fact that people were so willing to participate in something that was brand new. It was a really positive experience."
The fall may still be virtual but people seem to be getting more comfortable with the new learning environment. Whether it comes to a university or professional development, I've taken classes both online and in person. It is what you make of it regardless of the format. Either way, being able to give participants different options to respond is really helpful. Poll Everywhere is an easy way to communicate with your audience.
Poll Everywhere for learning and development
Design trainings that center audience voices.
Learn more