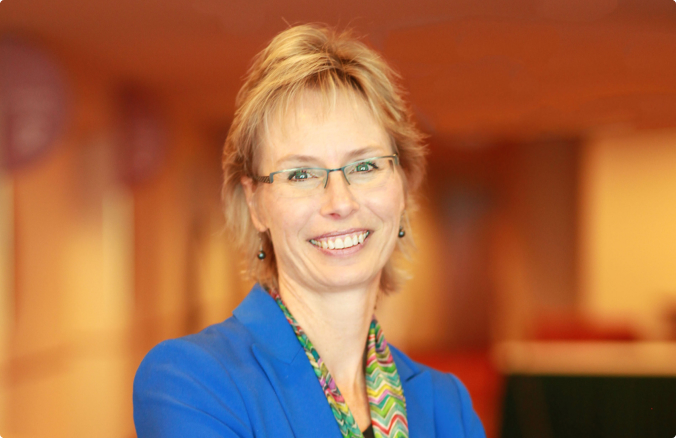 Location

Wisconsin

Size

100+

Use case

Corporate learning & development
I love word clouds, open-ended questions, and multiple choice activities, but I'm also interested to discover all the other activity types I can use in upcoming events.
Tina Hallis, Ph.D., Speaker at The Positive Edge, uses real-time audience responses to spark conversations during her presentations about all things positive psychology. "I'm grateful that I discovered Poll Everywhere a few months ago, but I wish I would've had it even earlier for live events. Now more than ever, I try to think of creative ways to surprise the audience, engage them, and help them feel included."
Adapting in-person presentations
Tina had been in the biotechnology space for about twenty years before completely switching gears to motivational speaking. "I have a Ph.D. in bioorganic chemistry and I spent a lot of time developing products and services related to drug discovery. In 2011, I discovered positive psychology, a whole new kind of science I'd never heard of before, and I was hooked. I was a scientist in a lab and a product manager, not a speaker, so when I decided to leave biotech I had to totally reinvent myself. I learned how to start a business, run a business, become a speaker, and convey the benefits of positive psychology research to others in a meaningful way."
Moving her presentations to a virtual environment meant researching tools to replicate in-person experiences. "When you're in the same room, there are many different activities you can do as a group. For example, I had participants write notes on paper airplanes and throw them around — it was fun and colorful and got people laughing. In a virtual setting, you obviously can't do that. I was looking for new ways to keep my audience on their toes, especially when they were so burnt out from online meetings."
That's where Poll Everywhere came in. Tina incorporated live activities throughout her PowerPoint slides to keep the audience actively participating. "Since we're in the middle of a pandemic, I like to start by asking participants how they're feeling with a word cloud. A lot of the responses would be 'anxious' or 'frustrated', but there were also answers like 'hopeful' which was great to see. Attendees could see that people are also feeling uncertain like them, but that there are still some positive emotions too. I also use multiple choice and open-ended questions to get people thinking and engaged. I like to sprinkle them throughout, adding in a story or an activity for interaction at least every ten minutes or so."
To keep the sessions dynamic, Tina likes to stand next to her projected slides so she can convey more energy with her body language.
I always used to ask live audience questions during my presentation, but if I'm standing further away from my computer, I can't see their responses in the chat. Poll Everywhere lets me stay more connected because I can see them on the big screen.
Generating actionable results
Even with a wide range of audiences, Tina has found that her interactive presentations have been a success. "I got so much positive feedback about the Poll Everywhere activities I incorporated. Participants really enjoyed seeing their responses come up on the screen."
After the session, Tina saves the results so she can walk away with actionable learnings. "I export a screenshot of the results and share those with the meeting organizer so they can see some of the key questions I think they would benefit from."
I would love to use Poll Everywhere when we go back to in-person meetings. I'm excited to see the audience and hear from them live.
Poll Everywhere for learning and development
Power your next meeting with impactful audience feedback.
Learn more